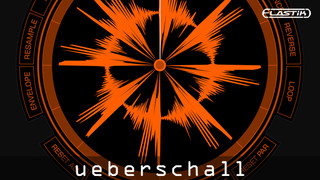 Ueberschall has announced it is currently working on the version 2.5 update for Elastik, the free sample & loop player for Windows and Mac.
New features include AAX support for OS X and Windows in 32 & 64 bit native mode, a new vintage pitch mode, multiple outs and the Random-Replacement-Filter.
Changes in Elastik v2.5
AAX Native — The AAX format allows Elastik 2.5 to be used in the new Pro Tools 11. Elastik supports AAX in OS X and Windows in both 32 and 64 bit mode.
Vintage Pitch Mode — The Vintage Pitch mode allows editing of loops as in the pioneering days of sampling. In this mode the pitch of the material changes parallel to the tempo. This spares the transients and keeps the groove, perfect for percussion and drum loops.
Multiple Outs — It will be possible in version 2.5 to route each loop to its own output. This allows individual loops to be treated with external effects or to be mixed differently.
Random-Replacement Filter — Elastik 2.5 improves the Random-Replacement feature. The soundbanks from which new random samples are loaded can be determined using a filter. This can be used to only pick samples from libraries of the same genre or series. A feature that is particulary useful for users of the Inspire Series.
Bug Fixes — In addition to the features mentioned above there are also a number of minor bug fixes in version 2.5.
Elastik version 2.5 is expected to be available as a free download from Ueberschall in November, 2013.
More information: Ueberschall / Elastik