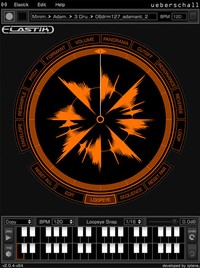 Ueberschall has announced the relaunch of its website, which includes a new catalogue view, a simplified activation process and a new "free download soundbank".
The 460 MB soundbank contains 192 Loops and Samples from 12 different products: 60s Psychedelic Rock, 8 Bit Stylez, Balkan Lines, Beyond Tech House, Chillout Brezze, Deep House, Dubstep, Electro House Inferno, Metal, Synth Pop, Trance ID 2, Urbanic 2.

Above all,
Ueberschall offers a voucher for everyone interested in loop libraries. Just enter this number the next time when buying at ueberschall.com and save 20 euro on your next purchase:
C60-4Z2L-L498-LHH5-F

It is a one-time voucher, works with every product in their shop and is valid until the 15th of may 2013.
More information: Ueberschall