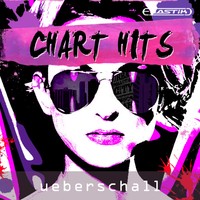 Ueberschall has announced the release of Chart Hits, a new sound library for the Elastik 2 Player.
Straight into and up the charts. Is music more than just fun for you? Do you want to address big audiences? Do you look for airplay, video-rotation and commercial success? Then it is time to enter the charts with your track!

Pop is the biggest intersection in music. It reaches large audiences by radio- and television broadcast, clubs and concerts. This allows earning quite a bit of money but also means working in a competitive market. To hold your ground, more than just a good song idea is needed to remain in the charts. Your productions need to be top notch and pick up the latest trends. This is where Ueberschall's Chart Hits library comes in. Pop-oriented construction kits integrate modern elements like Trance- synthlines, R'n'B-hooks as well as House-beats and acoustic guitar licks. Fat synth sounds and punchy drums set the base for catchy melodies and harmonic structures that paint the full picture of song. This library puts the right sound-set for your chart track into your hands. The rest is up to your and your A&R manager.

Chart Hits offers 10 extensive construction kits including a total of 510 loops. Just like in recent US major productions, Euro-sounds are mixed with elements of black music to melt into real pop-music-anthems. These sounds create a dense grooving backing-track that, unlike instrumental club music, will leave enough space to fit vocals and lead instruments.
The sound library is available to purchase for 49 EUR.
More information: Ueberschall / Chart Hits