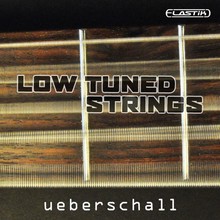 Ueberschall has announced the release of Low Tuned Strings, a new Elastik soundbank.
This special library offers loops and sounds recorded from unusually low tuned stringed instruments. Sound sources were acoustic and electric guitars, electric basses as well as a double bass. Grant your production something unique by adding these extraordinarily sounding loops and single sounds. The instruments' strings have been detuned to up to more than an octave below their common tuning, resulting in interesting sound structures. These strings rattle and vibrate while the booming double bass licks have moved to the deepest basement of frequencies.

Use Low Tuned Strings to place uncommon emphases in music productions and dubbing. The capabilities are immense: use the sounds as source material for installations, experimental music, atonal journeys through sound, suspense-packed effects in film, television and games production or as atmospheric elements in various music genres. All samples are available in two versions: dry and processed with versatile effects. The unaltered samples enable using the uncommon sound sources in new contexts over and over.
The library is categorized into melodies, licks and phrases, single notes, bowed, slides, breaks and harmonies.

Low Tuned Strings convinces by its individual sound aesthetic, produced by loose, wobbling strings, near the border to tonality and stable tuning. This library is a real enrichment to musicians, producers and sound designers that enjoy experimenting.
The sample library is available to purchase for 49 EUR.
More information: Ueberschall / Low Tuned Strings