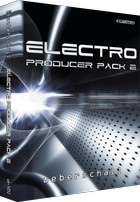 Ueberschall has released Electro Producer Pack 2, a massive collection of construction kits for Electro music.
Electro Producer Pack 2—the follow up to it's well known ancestor—provides 1.9 GB of full-range Electro Sounds and Samples and of course surrounding styles such as Nu Dance, House, Minimal, Trance, Techno, Dance and Breaks. These sounds are in high-demand for various professional purposes and the EPP2 content achieves optimum fidelity for this style.
Electro Producer Pack 2 features
1.9 GB, 3.322 Loops and Single Sounds.
Drum Single Sounds and Percussion Sounds — Tons of grab and go ready, punch filled and over the top: kick drums, claps, snare, hi hats, cymbals and shaker samples. Also Hundreds of high impact global / hybrid percussion single sounds, custom tailored and treated for injection into the club mixing atmosphere.
Kick-Drum-less loops and Percussion loops — Every one of the 113 well-stocked Kick-Drum-less themes contains a main mix plus every element broken out. These are altogether 777 Loops, which you can mix with each other to create within seconds new unique loops. These loops have a wide reach of diverse styles, such as shaker, percussion, hi-hat loops and even distorted, phased, flanged or crushed drum loops are available. Some loops are mounted with sfx sounds and other effects to make them grab and go ready.
Synth Sounds — The 138 Synth Single Sounds are divided into bass and lead sounds, including types, such as sinus, saw, resonance, sub, noisy and distorted sounds for example. We sampled the sounds with lengths of up to 12 sec. All sounds were created with analog synthesizers: Moog Voyager, Studio Electronics SE-1, Alesis Andromeda A6, Korg MonoPoly, Oberheim Xpander, Oberheim OBMX.
Synth Loops — Well known from products such as Analog Attack, Liquid Electro Lines are the 346 synth loops. We fortified each folder with different sound patterns. They can be used as fill in, backing or main melody. Every Synth Loop also includes a set of variations which are different in terms of filter movement, sound and groove.
SFX Sounds — The 355 Sound Effects are split into sweeps, bits and pieces and into a mixed category. All sweeps where polished with additional effects, especially reverbs. The bits and pieces were divided into glitches, noises, crackles, low and high tension sounds. The mixed category including types, such as atmospheres, hits, lfos, noise sounds, weird effects and so further.
SFX Loops — This folder includes 56 SFX themes. These loops have the same structure as the drum-less loops—a main mix plus every element broken out. Making 346 loops overall for this category, which include different kinds of sound effects, for instance: lfos, sweeps, noisy sounds, glitches, crushed sounds and many more..
Vocals — The 222 Vocal samples are separated into vocal cuts and vocal phrases. Inside the vocal cuts folder you can find short shots from various female and male artists. The vocal phrases folder is made up of several catchy vocoder and talkbox phrases.
Electro Producer Pack 2 is available as an Elastik Soundbank for Windows and Mac (Elastik Player included, VST/AU/RTAS/Standalone) from various distributors.
Visit Ueberschall for more information.