Ueberschall has launched Flugelhorn, a new sound library for the Elastik Player instrument.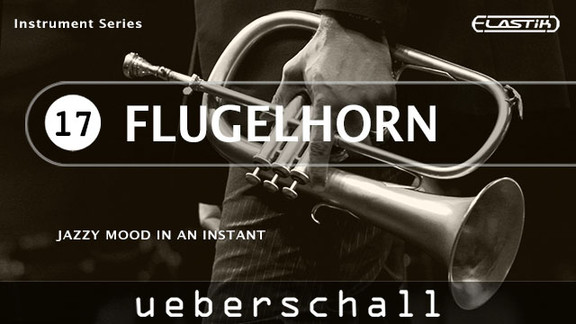 If you need to add the cool sophisticated sound of mellow brass to your music production, Flugelhorn will hit that mood in an instant. Featuring the virtuoso playing of Gary Winters, this library brings you the smooth tones of the solo Flugelhorn. Warmer, darker and less strident than the trumpet, this instrument is characteristic of classic jazz from the 1930s to the present day.

With over 900 MB of material spread across 700 loops and organized into folders by both tempo and key, the sound of the instrument is presented in an intimate, dry, fashion, ready for you to apply just the right amount of ambience for your production. All licks are available as dry versions, without any E.Q.- , compressor- or reverb effects. Tempos span 70 to 128 bpm and phrases move from the sparse and melancholic through to the frenetic and intense, so you can easily build a complete solo performance to match any musical backing.

Styles would obvious suit jazz, easy listening or lounge but, in the right context, could easily cross over into pop, electronic or film music productions. For a touch of musical class – and a classic mellow jazz mood – Flugelhorn will blow the completion away.
The soundbank is available for purchase for 49 EUR.
More information: Ueberschall / Flugelhorn