Ueberschall has released the RetroFit series, a collection of 5 sample library units, in celebration of Ueberschall's 20th anniversary.
The RetroFit series contains fifteen of Ueberschall's most popular sample CDs, but now converted to the Elastik player format (each unit includes three sample CDs)
Unit 1 – Essentials of the Order – More just ain't possible!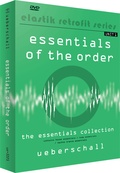 A massive new collection of the outstanding Sampling CD's Techno Trance Essentials, House Essentials and Loop Essentials. They have been used around the globe by top chart producers in mixes for the world's biggest and most famous acts. No wonder – sound designer Doug Laurent himself did hit productions for dance projects such as Culture Beat, La Bouche, Sash and Snap, electronic cult acts like Front242 or Yello and house artists like
Gloria Gaynor and Jocelyn Brown.
All 8600 samples are now finally available in Ueberschall's famous Elastik Audio Player to guarantee a maximum of flexibilty in arranging sounds that was never as easy before. "Essentials Of The Order" is a must have combination of top notch quality samples and state of the art software.
Unit 2 – ComfortZone – XXL Relaxation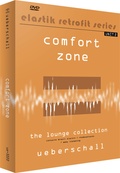 For high-anxiety times comes stress-free grooves. Dreamy, smooth offerings made of lush live instruments and laidback performances from 3 more top cds; Brazil Elektro, Easy Listening, and Rhodes Attacks, for a total of 1.790 loops and samples.
Instant imagery of the Brazilian coast, shopping centers, your favorite low key coffee house. Lounge loop tones include: Drums, Vocal shots, Organ, Brazz, Strings, Exotic Percs, Syn, Bazz and more. This edition of RetroFit includes the cult classic Rhodes release, made from live Rhodes sessions, adding a surreal warmth to the entire set. All material now rests in the Elastik environment making daw integration a piece of cake.
Unit 3 – AntiGravity Maneuvers – It's Here

Edge chasing epics of DnB (drum and bass) and 2 Step (garage) under Elastik ordinance. Inside you'll find the thrill of creation and the acclimation of chiseled craft. The 2 Step material is a rare retro/metro gem, this technique is heard in many commercials and networks.
Drum and Bass is a constantly evolving medium growing larger by the minute, it's featured across film scores, pop songs or even nu-metal.
Tricky beats, solid backings with much mechanical mayhem. These sets include early DnB (jungle etc…) and NuDnB (bigbeat accent) as well as 2 Step styled with Dub, RnB, Reggae and others. All Construction Kit format with ueber-fidelity. Wild percussion, keys, synths, rez bass, abstracts, fx, nature, acoustic bass, floating pads, wobbly wide synth and others.
Includes the following sharp shooter collections: DnB Resonance, DnB Flashtrackz and 2 Step Garage, for a total of 3.100 loops and samples.
Unit 4 – Astral Electro Flux – Because you deserve it!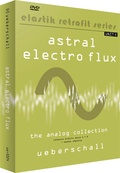 Artificially driven audio pattern interruptions with origins from German Underground. Harshness, thickness, deranged experiments, mind kontrol and other delights. Electro Shock 1, 2 and Techno Identity, 3.100 loops and samples in total, now make contact inside Elastik.
Overcomplicated synths, perplexed drum tones and inhumane textures provided in abundance. Thousands of chaotically generated inverted loop concepts extracted from analog keys, atmos, fx, percussion and other overboard processing elements.
Unit 5 – Sensory Disruption – Blast Away!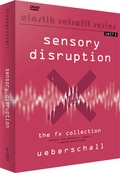 Ueberschall's original innovative full motion sound fx collections in one place, re-ordered and housed under the Elastik hood. Sound events include 3-D "Flying Dimension", Nature, Assembly Line Mechanisms, Cosmos Drones, SubSonix, Violence + Turbulance, Freaky Foley, Electronic Quirks and much more. These sounds were treated with advanced equipment sequences and stereo range devices, delivering a quality like nothing else. An incredible variety of thickening and thinning agents—these kind of textures offer unlimited usability for numerous audio professional needs. Instant Sci-Fi, Cartoon, Background, Action, Atmospheres, Over-clocked Percussion with a modular control room patch matrix feel throughout.
Unit 5 includes: F.A.S.T. Animation, Special Sound Effects, and Jingle FX, a total of 1.600 loops and samples.
All these units are available in Mac/PC/AU/VST/RTAS formats, and cost 99 EUR each. A special anniversary price of 79 EUR will be effective during the whole month of November.
Visit Ueberschall for more information.