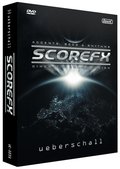 Ueberschall has released Score FX – Cinematic Sound Design, a comprehensive solution for professional, musical sound design.
Featuring a progressive structure and layout made for building tracks from supplied "themes" and construction kits offering ease of injection into projects. Thanks to the extended possibilities of Liquid you can shape individual notes within all the included phrases until each loop is tailored to your situations needs. Making Score FX a unique exceptional package for mood stacking sound design around Cues / Animation / Spots / Songs / GameAudio.
Score FX features
Score Illuminator: 28 construction kits with all individual parts provided, allowing you to rebuild and rearrange the kits to your unique picture. Each construction kit is at least one minute in length with rich complex textural design and contrast. Thousands of single accents, hits and stings, evolving soundscapes and organic rhythms are grouped into logical themes such as: Concern", "Mysterious", "Pleasing" or "Scary". The complete library is very user friendly and is categorized for easy and fast access.
The single loops / shots come in three main categories:

Accents – The Accents include 954 small hits for every cinematic situation. From "confused" to "disturbed"–"piercing" and "high" to "worry and anxiety". Additionally there is a special folder with "Vocal Bits" in different styles.
Beds – The Beds concentrate on evolving and lively soundscapes. Each is about 30 sec to 1 min long and can be stretched or shortened with Liquid without any artifacts! All in all about 2GB of material in this section, 198 different samples, separated in 15 different folders.
Rhythms – The rhythms come with 362 files in 32 different folders. The complete loops can be time-shifted and pitched so it will perfectly fit to your production. Plus, you can even pitch single hits out of one loop and create interesting new percussive sequences. Or combine different sequences together and create new patterns.

Build and recall your own character presets to enhance your existing themes within projects.
All samples are recorded and programmed exclusively for Score FX and are 100% license free.
Score FX (Liquid Soundbank) is available for PC and Mac (AU/VST/RTAS) and costs $199 USD / 149 EUR.
Visit Ueberschall for more information and audio demos.