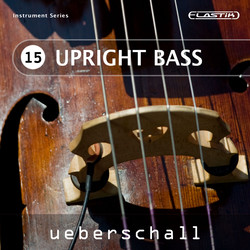 Ueberschall has launched Upright Bass, a new Elastik Soundbank featuring grooves with low end.
A library that really goes deep. The wooden sound of an upright bass delivers unmatched liveliness to the lower registers of any track. Upright Bass covers multiple musical genres with its tasteful dynamic grooves.

Upright Bass is the latest title of Ueberschall's instrument-series where every volume fully focuses on a single instrument. The loops and licks of this library cover multiple playing techniques and articulations of the upright bass: flageolet, walking bass, half time, slides, bends, double notes and a lot more.

The spectrum covered by this library is amazingly versatile. The loops and their delicate groove do not only match Soul, Funk and Jazz but also related and influenced styles. No matter if Trip Hop, Breakbeat, Lounge, House, RnB or Rare Groove, Upright Bass will deliver the matching basslines. Additionally, by using creative filter- and effect processing, these loops will also add and push the bass in modern genres such as Drum & Bass or Dubstep. The bass licks are between two and eight bars in length with tempos ranging from 61 to 130 BPM.

For this library, we have fathomed the sonic range of this instrument. Thanks to professional recording techniques, you will not only hear but also feel the full deepness of the Upright Bass as well as its assertive and harmonically rich sound elements that are even present on laptop- and small speaker systems. All recordings have been carried out at 44.1 kHz and 24 bit with proven high-quality gear to achieve the best possible sound quality.
The soundbank is available to purchase for 49 EUR.
More information: Ueberschall / Upright Bass