UJAM has announced the release of Virtual Guitarist Carbon, a story-telling super weapon brings heavily distorted sounds to your production.
Carbon double as both a heavy "djent" guitarist playing a custom-built, 8-string, low-range/drop-tune guitar through a large custom setup of specialized, futuristic amps and cabinet models, and a creative electronic sound designer/engineer who knows how to creatively chop, tweak, modulate or destroy the raw guitar sound in order to create hundreds of guitar-or non-guitar-like sounds, rhythms and textures.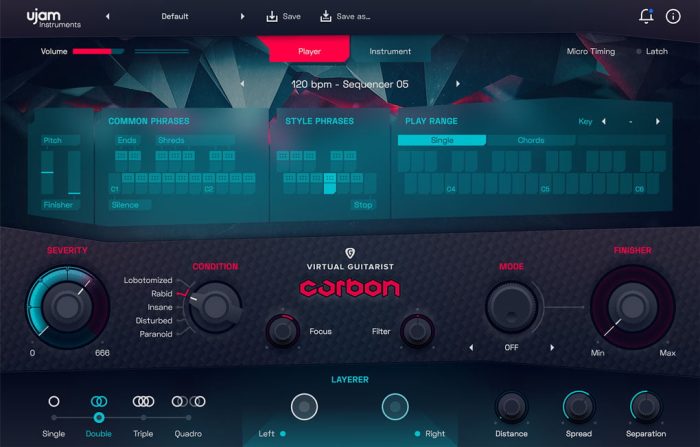 We built CARBON because there was nothing like it – a virtual instrument creating versatile modern "sound-designed" guitar sounds in all kinds of music genres – from the super-quantized accents in electronic music to action-packed big riffs in game soundtracks to subtle vibes in movie scores.

CARBON is for sound designers and musicians who go beyond borders. It's an otherworldly guitar for game soundtracks and film scores, but can also give electronic and pop music that extra kick. It's a wild and heavily distorted sound, yet that rawness is somehow precise, controlled and sometimes even synth-like at the same time.
Carbon features
Drag-and-drop of riffs to DAW tracks allows for detailed note editing and song building.
More than 55 Styles and 560 Phrases.
Custom creation of riffs – this is a first in a Virtual Guitarist and much requested by the Virtual Guitarist community.
Futuristic Amp Models with unprecedented distortion and gain.
Finisher Presets – automated FX chains for advanced sound design options.
Layerer – for stacking up to four CARBON guitarists and distributing them vertically and horizontally across a sound stage.
Carbon (VST/AU/AAX) is available now for 129 USD/EUR from UJAM and distributor Plugin Boutique. It is also included in the Guitarists-bundle for 399 EUR alongside Spark, Iron, Amber and Silk.
Loyalty upgrades with up to 62% discount are available to previous UJAM customers until November 17th, 2019.