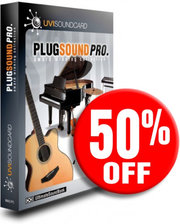 Time+Space has announced a limited time offer on PlugSound Pro, an 8GB sound library by Ultimate Sound Bank.
USB's award winning PlugSound Pro is the ultimate solution for musicians looking for a complete collection of useful sounds for their musical productions and, until midnight on Sunday (13th), we're giving you the chance to buy it for half the normal price!
Plugsound Pro includes:
Keyboards – acoustic pianos, electric pianos and synth-based keyboards.
Fretted instruments – acoustic and electric guitars, bass, harp and ethnic.
Drums & Percussion – acoustic and electric drum sounds plus 60 percussions.
Synthesizers – huge collection of retro and modern synth sounds.
General Midi – complete set up of sounds across several instrument categories.
Orchestral – strings, brass, woodwinds, mallets, percussions, choir ensembles.
Loops – acoustic, urban and electronic drums, acoustic & electric bass and guitar riffs, percussions and vocals.
Note: Plugsound Pro is designed for use with the UVI Workstation engine and the MOTU MachFive II virtual sampler.
Plugsound Pro is available from Time+Space for £62.50 GBP / 64.50 EUR until midnight on Sunday 13th March, 2011.
More information: Time+Space