Plugin Alliance has announced the release of Instant Delay, a new delay plugin by Unfiltered Audio that features the artifact-free delay buffer from Sandman Pro.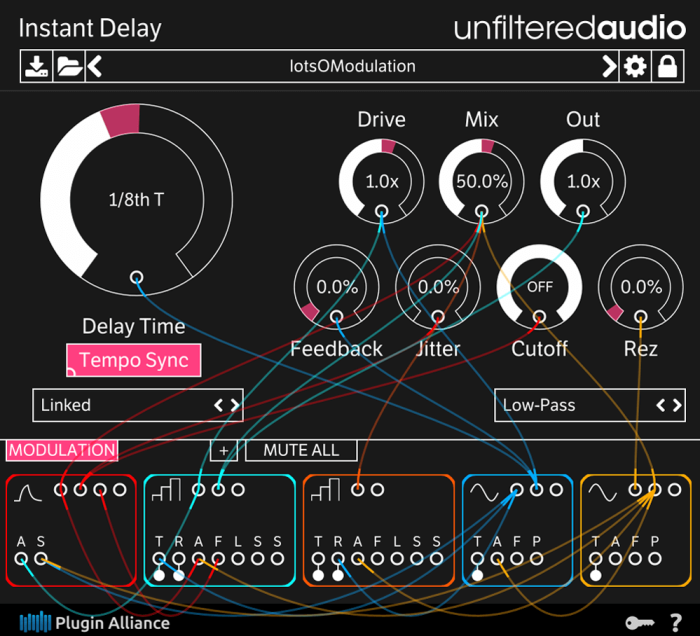 Anyone who is familiar with Unfiltered Audio can probably guess that even a simple delay from these guys is going to be a little different. Drop Instant Delay into your standard delay returns, and it will dutifully perform all the everyday tasks you'd expect – anything from stereo echoes on a sultry vocal track to ambient delay tails on an undulating synth pad. But it's Unfiltered's unique creative touches that make this a must-have plugin, even if you already have a dozen different delay options at your fingertips.

For its deceptively simple interface, Instant Delay offers a huge amount of control and sonic possibility. The innovative layout of the Delay Time setting not only offers tempo syncing for stereo channels together or separately, but also the option to offset one channel's delay time relative to the other, thus widening the stereo field for shorter offset times, or creating mesmerizing syncopated rhythms for longer ones. Create a simple flange effect on a mono lead track with a short, linked delay; then try upmixing it to stereo with a small offset. Then increase the offset and crank up the feedback to whip delay tails around your head, and finally dial in some natural character with the Jitter knob, which introduces an element of randomness to your selected delay time.
Instant Delay features
Fully-featured delay line with Linked, Independent, and Offset modes for total stereo control over buffer settings.
Analog-style LP/HP/BP filter, with adjustable resonance, is applied to the feedback loop.
Built-in soft clipper with Drive control can generate subtle saturation, overdriven aggression, and everything in between.
Jitter control adds an organic nuance that results in subtle syncopations with slower delay times, and a natural "blurring" effect with faster ones.
Unfiltered Audio's flagship modulation system provides eight freely assignable and fully automatable modulators, including a Step Sequencer, and integration with ROLI BLOCKS 5D Lightpad control surface.
A simple interface that offers a wide range of tones and applications, from simple vocal doubling to elaborate echo effects.
Unfiltered Audio's unique delay buffer algorithm lets users expand or contract the delay buffer in real time without pitch fluctuations or digital noise.
Instant Delay for Windows and Mac (VST/AU/AAX) is available for $49 USD.
Unfiltered Audio has also updated its Sandman Pro delay plugin. Version 1.1 adds native ROLI Lightpad integration with four modes of real-time performance control. It also adds a step sequencer, LFO phase controls, and more.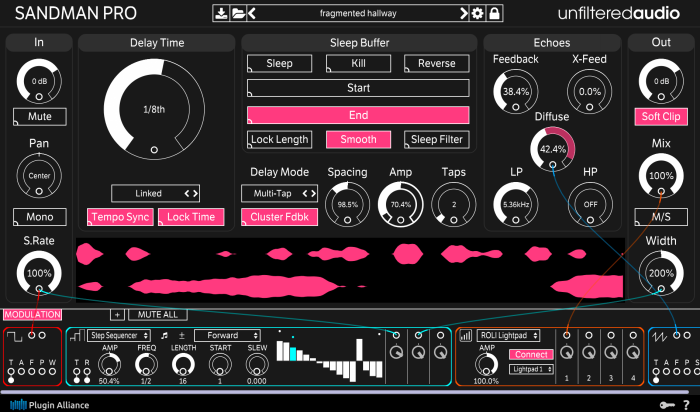 With the addition of a new mode for seamless integration with ROLI's revolutionary Lightpad Block 5D Touch control surface, Sandman Pro users can now take advantage of the trailblazing hardware's uniquely smooth, glowing, pressure-responsive design for an unprecedented level of realtime control over multiple parameters with the greatest of ease. Elsewhere, they can create sequences to modulate parameters or even other LFOs — themselves now resettable via a trigger input — with the new Step Sequencer modulator, making use of an expanded choice of interface scaling options while doing so.

Ultimately, Unfiltered Audio's flagship modulation system now boasts eight freely-assignable and fully-automatable modulators with intuitive drag-and-drop patching to each and every one of Sandman Pro's creativity-inducing controls. An ability to minimize modulators by clicking on their icons is another addition which will be welcomed, workflow-wise, by seasoned owners already hooked on this truly transmogrifying time machine.
Other Unfiltered Audio plugins will be updated over the next month with these new features. All Sandman Pro and ROLI Blocks owners will receive Instant Delay for free.
More information: Unfiltered Audio / Instant Delay