Unfiltered Audio has announced the release of SpecOps, a spectral effect plugin that offers 36 diverse and flexible spectral effects, ranging from subtle to extreme.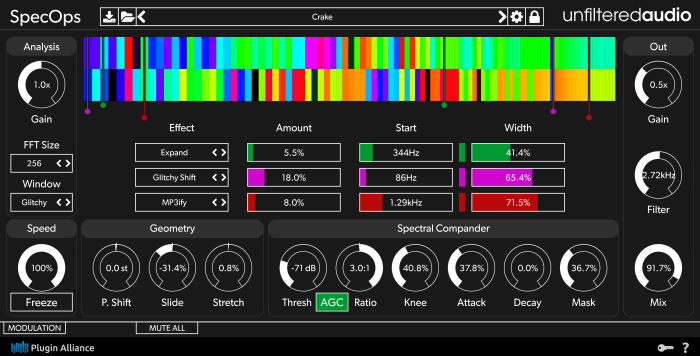 SpecOps allows you to transform synthesizer presets with new sonic qualities, add throbbing grunge to drum loops, fatten up instrument tracks, delicately clarify full mixes, or decimate organic instruments and vocals beyond recognition to create one-of-a-kind special effects.
The magic all starts with SpecOps' powerful analysis engine, which instantly splits your audio into thousands of tiny frequency slices, or "bins," for real-time processing. You can apply pitch and frequency shifting or a Freeze effect to all bins, but that's just the start.

In a snap, you can add up to three unique spectral effects from dropdown menus for simultaneous use – with each processor applied to a different frequency band! Then compress or expand thousands of frequency bins independently and at once using the Spectral Compander's simple controls, producing wide-ranging effects from subtle dynamics control to outrageous pumping and distortion.

SpecOps' flagship patchable modulation system lets you apply up to six built-in modulators – including a powerful 16-step sequencer, input follower, sample and hold noise, macro control and four different LFOs – simultaneously to any and all control knobs and sliders.

It even includes support for the ROLI Lightpad, allowing tactile control over three dimensions of parameter movements for on-the-fly production effects and live performance.
SpecOps features
Powerful, multi-faceted processing has wide-ranging uses in music production, sound design and live performance.
36 spectral effects can be applied – three at a time – to different frequency ranges with extremely high resolution.
Spectral effects include filters, amplitude manipulators, pitch and frequency shifters, audio freezers, data compressors, glitchy processors and a clipper – each of which can act on a different, independently adjustable frequency band.
Additional wideband processors – two pitch shifters, a frequency shifter and Freeze effect – optionally process input signal before spectral effects are applied.
Spectral Compander can gently or severely compress or expand dynamics for all other effects—both spectral and wideband—independently in thousands of frequency slices at once.
Analog-style, two-pole Low Pass filter softens high frequencies in plugin's summed wet output signal.
Continuously variable Mix control blends wet and dry signals, allowing light application of outrageous effects.
Unfiltered Audio's flagship freely assignable modulation system includes seven built-in modulators – a powerful 16-step sequencer, input follower, sample and hold noise, macro control and four different LFOs – all of which can be routed simultaneously to any and all control knobs and sliders.
Included external patch allows connection to a ROLI BLOCKS Lightpad, which provides tactile control over SpecOps' control knobs and sliders for studio production and live performance.
High-resolution Visualizer offers six display modes ranging from a basic waveform display to a technicolor array of spectral bins.
SpecOps for Windows and Mac (VST/AU/AAX) is on sale for $89 USD until October 20th, 2017 (regular $129 USD).
More information: Unfiltered Audio / SpecOps