Unfiltered Audio has released version 1.1 of G8, a major update to the dynamic gate effect plug-in for Windows and Mac.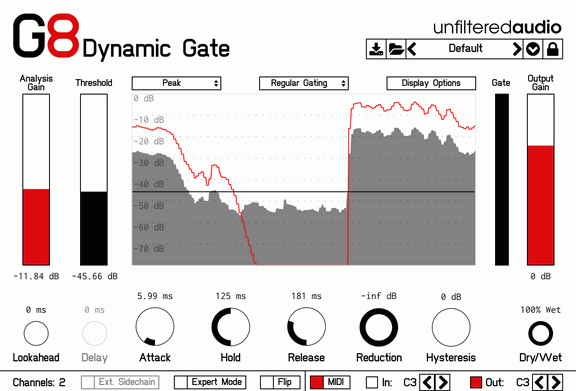 G8 is a high-quality noise gate with many tricks up its sleeve. It is both a professional dynamics workstation and an experimental amplitude effect.

Use it for noise reduction, AM/granular synthesis, bouncing ball rhythm programming, tremolo, trajectory panning, transient shaping, and much, much more.
Changes in G8 v1.1
Audition Mode! You can now listen to your sidechain inside of Expert Mode, including any mixing and filtering applied to the four channels.
True zero latency. G8 originally used one sample of delay. We re-wrote a significant portion of the DSP to achieve this, but G8 will sound exactly the same!
All latency reporting bugs fixed. We had one or two reported crashes in Cubase when sudden Lookahead changes occurred. Those are gone. In addition, G8's latency reporting was often off by a sample or two. Now it's 100% accurate. If you sum G8's output with a phase-inverted copy, you'll get complete silence, no matter your lookahead setting.
True bypass mode. For hosts that support the VST bypass standard (Cubase, etc.), G8 will now report its latency during this mode. You can now automate G8's host bypass without any artifacts.
Display bugs fixed. You can close G8's interface and re-open it, and your display settings will be maintained.
Interface improvements. These are back-ported from improvements made with Sandman. You can now double-click any knob to reset it to a default value. We swapped positions of the LP and HP sidechain filter to better fit the standard placements.
G8 for Windows and Mac (VST/AU) is available for purchase for $49.99 USD.
More information: Unfiltered Audio / G8 Dynamic Gate