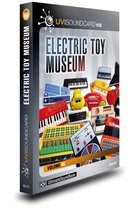 Univers Sons / Ultimate Sound Bank has released Electric Toy Museum, a sound library featuring 97 vintage musical toys.
This is certainly the most insane sound library in the market. 97 vintage musical toys were carefully sampled in the very best conditions, 24 bits / 96khz quality, most of them recorded with the best microphones and preamps.

With more than 1000 presets and 14 000 samples, you will feel like having all these toys right under your fingertips. Every aspect of each machine has been captured: multi-sampled instrument with release samples for every note, rhythms converted into sliced loops, GM drumkits created, FX and speech voices carefully organized…
Electric Toy Museum features
Children — These toys are particularly designed for kids, even if most of the time, elders do play with them. (11 machines)
Developed — Sometimes real advanced keyboards are hidden behind the word "toys", whose technique nonchallenges some tedious semi-pro keyboards. (9 machines)
Drums & FX — Especially designed for drums and FX, whether they are pure sound FX machines or drum machines. That's the rhythm of the household. (13 machines)
Mini Sampler — Seriously impressing for their days and intent, these keyboards came with a microphone and/or RCA sampling facility. (3 machines)
Musical Toys — More toys than musical, most of the time with no keyboard, some of them hide very surprising features… (15 machines)
Organ Basic — The electric organs that have been scattered about in youngsters' bedrooms for the last forty years. (10 machines)
Silly — It's not they sound poorly, it's not they were too quickly designed, it's not we don't love them, it's… just totally silly!. (10 machines)
Small — These keyboards were designed to be "child' fingers-compliant". Some machines from this category became iconic. (11 machines)
Speech — These are the talkative toys, whether it's for learning spelling, just for fun or to make music. (3 machines)
Style-o-phone — One of the best and oldest kind of musical toys ever designed. (11 machines)
Electric Toy Museum is now available for $249 USD. It includes the full version of UVI Workstation.
Visit UVI for more information.