Universal Audio has announced the release of UAD Software v8.6, featuring the Fender '55 Tweed Deluxe, the first 100% UA-developed guitar amplifier plug-in — exclusively for Apollo interfaces and UAD-2 hardware.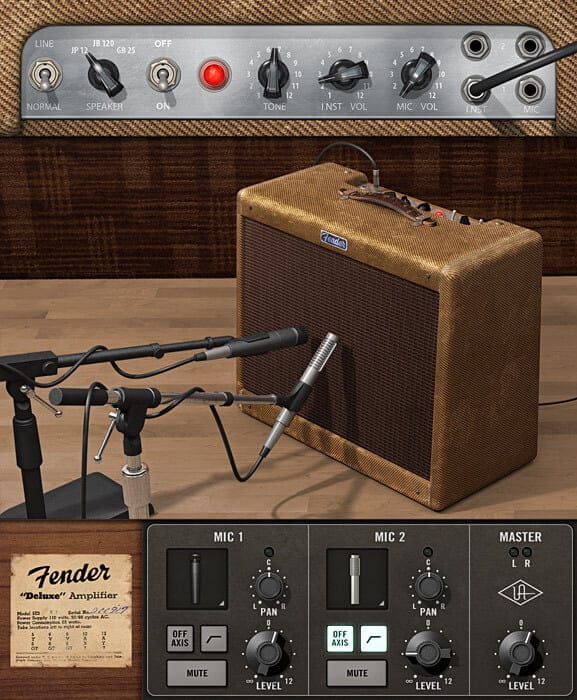 One of Leo Fender's first and finest amp designs, the Fender Deluxe was introduced in 1946. After various circuit tweaks, Fender eventually landed on the now historic "wide-panel" 5E3 Deluxe in 1955. This amplifier's touch-sensitivity has a dynamic range from clean and sweet, to overdriven raunch that's made it a go-to recording amp for the likes of Larry Carlton, Neil Young, Mike Campbell, Daniel Lanois, and Billy Gibbons.

For more than two years, UA undertook extensive research and development, capturing every single component of two "golden unit" 1955 Fender Deluxe amps — from vintage speaker paper and tubes to filter caps and transformers — the essential ingredients that make the 1955 Deluxe an iconic "secret weapon" recording amp.

The result is the UAD Fender '55 Tweed Deluxe plug-in, Universal Audio's first guitar amplifier emulation and a groundbreaking development in guitar amp modeling.

Featuring an assortment of meticulously-placed microphone combinations, as well as three different classic speaker types, the Fender '55 Tweed Deluxe plug-in includes Universal Audio's Unison™ technology; Apollo users' guitar pickups will see the exact impedance load as if plugging into a vintage 1955 Fender Deluxe — a feature found only on Apollo audio interfaces.
Fender '55 Tweed Deluxe features
An authentic end-to-end circuit emulation of an original 1955 Fender "5E3" Tweed Deluxe amplifier, exclusively for UAD-2 and Apollo interfaces.
Choose from three different speaker types: stock 1955 Jensen P12R, Celestion 25-watt Greenback, and JBL D120F*.
Choose different microphone combinations and placements — without phase issues.
Unison technology for Apollo interfaces offers authentic tone, touch, and feel of original 1955 Fender Tweed Deluxe amplifier thanks to impedance matching.
The Fender '55 Tweed Deluxe Plug-In is available for purchase for $199 USD.
Alongside the new UAD Fender '55 Tweed Deluxe Plug-In, the UAD Software v8.6 release features two exclusive new plug-ins for UAD hardware and Apollo interfaces — the Softube-developed Chandler Limited Curve Bender Mastering EQ and the Sonnox Oxford Limiter v2.
Developed for the UAD Powered Plug-Ins platform by Softube, the Chandler Limited Curve Bender Mastering EQ plug-in is an exacting emulation of this ultra-boutique, inductor-based EQ.

Based on the vintage EMI TG12345 desk from Abbey Road Studios, the same one used to record Pink Floyd's Dark Side of the Moon and The Beatles' Abbey Road, Chandler Limited's Curve Bender Mastering EQ takes the warm, legendary sonics of the vintage EMI unit, and expands it into a powerful mastering EQ.*

Endorsed by Chandler Limited founder Wade Goeke, Softube emulated the Chandler Limited's Curve Bender circuits end-to-end, including its filter inductors, germanium transistors, transformers, and circuit nonlinearities. This allows the Curve Bender plug-in to retain the hardware's rich harmonics and vintage tone.
Chandler Limited Curve Bender Mastering EQ features
Exacting emulation of this modern classic EQ for mixing and mastering, fully authenticated by Chandler Limited.
Based on the vintage EMI TG12345 desk used to record The Beatles and Pink Floyd.
Models entire Chandler Limited Curve Bender electronic path including transformers and circuit nonlinearities.
Plug-in only features include Mid/Side functionality and channel linking.
The Chandler Limited Curve Bender Mastering EQ Plug-In is available for purchase for $299 USD.
The Sonnox Oxford Limiter v2 plug-in transparently increases the volume, density, and presence of your tracks without losing transients or dynamics.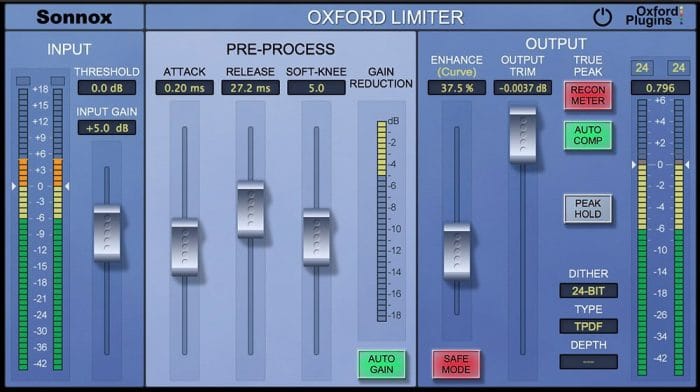 Featuring the latest generation of Oxford Limiter's inter-sample peak (ISP) detection — introduced for the first time on the UAD platform — this powerful plug-in is an essential tool for engineers looking for an uncolored, accurate limiter as a "final stage" for their masters.
Sonnox Oxford Limiter v2 features
Professional mastering-grade peak limiting with attack, release and variable soft-knee.
Enhance section to increase perceived loudness without gain pumping effects.
Auto Comp fixes reconstruction errors without losing overall loudness, while conforming to the industry's true peak measurement standard (ITU-R BS. 1770-4).
Comprehensive high-quality dither and noise shaping options.
The Sonnox Oxford Limiter v2 Plug-In is available for purchase for $249 USD.
More information: Universal Audio