Universal Audio has announced the release of the Manley Variable Mu Limiter Compressor Plug-In for the UAD Powered Plug-Ins platform and Apollo audio interfaces.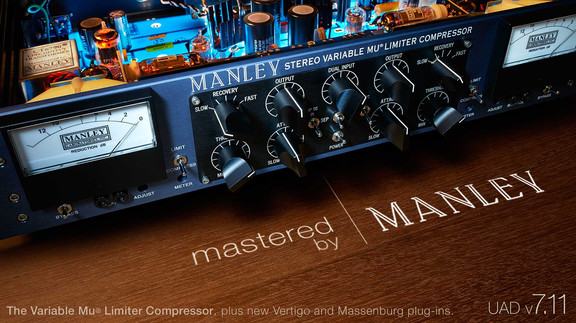 The Manley Stereo Variable Mu Limiter Compressor has been Manley Labs' flagship compressor since 1994. The Variable Mu's Class-A, tube and custom transformer-driven design epitomizes hand-made boutique craftsmanship. It's considered the gold standard among mixing and mastering engineers thanks to its smooth, transparent dynamics control, and ability to add clarity and cohesion to stereo buses or an entire mix.

Developed under Manley Labs' rigorous scrutiny, the Manley Variable Mu Limiter Compressor plug-in for UAD-2 hardware and Apollo interfaces is a thorough emulation of this legendary tube limiter, and is based on the coveted "6BA6 T-BAR Tube Mod" unit.

"After months of hair-splitting measurements and listening tests, we are confident and proud of the faithful emulation Universal Audio has made of our revered Manley Variable Mu Limiter Compressor," says EveAnna Manley, President of Manley Labs. "The UA software engineers responded to our observations and scrutiny with eager dedication to make this plug-in one of the absolute best models they have achieved to date. Our ears confirm it."
Manley Variable Mu Limiter Compressor features
Transparent Variable Mu tube compression for master fader, sub-groups, and individual sources.
Exclusively licensed by Manley Labs.
Models entire stereo Class A circuit, including custom transformers, input gain, and gain reduction characteristics.
Plug-in only features include Dry/Wet Mix, Controls Linking, and Headroom functions.
Continuous Dual Input, Stereo Output, Threshold, and Attack controls.
Side Chain Filter and L/R or M/S operation.
Requires UAD-2 DSP Accelerator Card or Apollo interface, available from authorized dealers worldwide.
The Manley Variable Mu Limiter Compressor plug-in is available for purchase for $299 USD.
More information: Universal Audio / Manley Variable Mu Plug-In