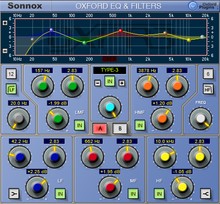 Universal Audio has announced the release of the Sonnox Oxford EQ plug-in for the UAD-2 Powered Plug-Ins platform.
Sonnox, a highly respected UK-based audio software developer and new UAD Direct Development partner, is best known for its range of innovative mixing and mastering plug-ins — longtime tools of choice for celebrated sound engineers and music producers worldwide.

The popular Sonnox Oxford EQ Plug-In, newly optimized for UAD-2 DSP Accelerators and the Apollo audio interface, incorporates the exact equalization algorithms from the legendary Sony OXF-R3 mixing console — regarded as one of the best-sounding mixing desks of all time. With four selectable EQ curves covering a wide array of styles, the versatile Oxford EQ's novel coefficient generation and intelligent processing provide superior sound quality and greater artistic freedom.
Sonnox Oxford EQ features
5-band fully parametric EQ incorporating exact algorithms from the legendary Sony OXF-R3 digital mixing console.
Variable HF & LF filters up to 36 dB/Octave.
Four different EQ types — from modern to "legacy" styles — in a single plug-in.
Fully de-cramped HF response.
A/B switches (automatable).
Intuitive editable graphic display of all EQ/filter settings and adjustments.
Ultra-low noise and distortion.
The Oxford EQ is available for $299 USD, available as part of the new UAD Software v6.3 release.
More information: Universal Audio / Sonnox Oxford EQ