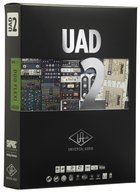 Universal Audio has announced the UAD-2 powered plug-ins & PCIe DSP Accelerator Card for DAWs.
The UAD-2 is the successor to the revolutionary, award-winning UAD-1 Powered Plug-Ins & DSP Card Platform. UAD-2 offers scalable DSP power via 3 different types of cards (Solo, Duo or Quad) which can be mixed or matched in any combination up to 4 cards. Each UAD-2 is powered by the same Analog Devices® 21369 SHARC® floating-point DSP in single and multi-chip configurations. UAD-2 offers 2.5X (Solo), 5x (Duo) and 10X (Quad) the power of UAD-1.
UAD-2 key features
2.5X (Solo), 5X (Duo), 10X (Quad) the power of UAD-1 on a single PCI Express card.
VST and AU support, cross platform Mac OS X Leopard/Tiger, Win XP/Vista (NOTE: RTAS support to follow in a future 5.x release) Easily Expandable DSP – Use up to 4 UAD-1 & 4 UAD-2 cards in one system.
LiveTrack™(low-latency track/monitor mode)L.O.D.E™(Live Optimizing DSP Engine).
SessionMap™(bi-directional UAD-1<>UAD-2 session compatibility & DSP manager).
The UAD-2 is now shipping and immediately available at UA dealers worldwide in 9 different hardware/software bundles ranging in street price from US$499 (UAD-2 SOLO) to US$1999 (UAD-2 Nevana 128).
Visit Universal Audio for more information.