Universal Audio has released UAD Powered Plug-Ins Software v7.5, unveiling UA's new Unison™ technology to Apollo QUAD and Apollo DUO interfaces and adding several key features for Mac users.

Unison Mic Preamp Technology for Apollo QUAD and DUO Audio Interfaces

Introduced with Apollo Twin, Unison technology is an exclusive analog/digital integration system that allows for realtime bi-directional control and interplay between Apollo's physical mic preamps and new UAD preamp plug-ins — including the now-updated API Vision Channel Strip Plug-In and new Universal Audio 610 Tube Preamp & EQ Collection. With UAD Software v7.5, Apollo DUO and QUAD users can immediately take advantage of Unison with a free 610-B Tube Preamp & EQ plug-in provided on install.

Full AAX 64 Support for Macs and OS X 10.9 Mavericks Compatibility

UA is pleased to announce full compatibility with Apple's latest operating system, as well as full AAX 64 support for Mac users, with AAX 64 support coming for Windows 7 users this spring.
These new enhancements are part of new UAD Software v7.5, which also includes the new UA 610 Tube Preamp & EQ Collection and the Brainworx-developed Dangerous BAX EQ Plug-In Collection.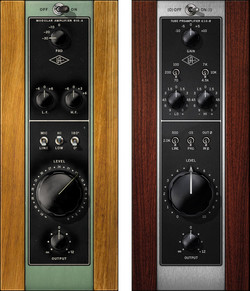 610 Tube Preamp & EQ Collection
More than three years in the making, the UA 610 Collection represents the first comprehensive modeling of the legendary 610-A tube preamp and its modern variant, the 610-B — including their tube and transformer components and all of the unique distortion characteristics of the originals.
The 610-A is modeled on a channel from the storied Wally Heider "Green Board," used to record Neil Young, Ray Charles, Elvis Presley and Jimi Hendrix, and offers simple 10 kHz high-shelf and 100 Hz low-shelf EQ. The modern 610-B offers selectable input impedance, adjustable high- and low-shelf EQ, and expanded gain range.
Dangerous BAX EQ Plug-In Collection
The Dangerous BAX EQ Plug-In Collection is a powerful tool for shaping and enhancing the tonality and character of your music.
Designed as a "finishing EQ," the BAX EQ Collection is the first and only authentic plug-in emulation of this studio staple, available exclusively for UAD-2 and Apollo hardware.
The 610 Tube Preamp & EQ collection is available to purchase for $299 USD; The Dangerous BAX EQ collection costs $249 USD.
More information: Universal Audio