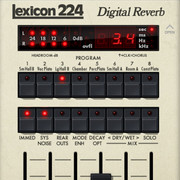 Universal Audio has released version 5.9 of the UAD Software, including the Lexicon 224 Digital Reverb for the UAD-2 platform.
From the moment it was unleashed on the audio industry in 1978, the original Lexicon 224 Digital Reverb — with its tactile, slider-based controller and famously lush reverb tail — almost single-handedly defined the sound of an entire era, and remains one of the most popular and influential digital reverb units of all time.

The result of UA's acclaimed modeling expertise, the Lexicon 224 plug-in for UAD-2 precisely captures all eight reverb programs available in original 224 firmware version 4.4, including every tunable parameter, with unique fader-style controls — inviting easy experimentation and sonic exploration. In UA's exhaustive modeling tradition, the Lexicon 224 emulation also incorporates the original unit's input transformers and early AD/DA converters — nailing the entire signal path right down to the last detail.

Additionally, the Lexicon 224 emulation for UAD-2 features direct input and presets from famous Lexicon 224 users, including Chuck Zwicky (Prince, Jeff Beck), Eli Janney (Jet, Ryan Adams), David Isaac (Eric Clapton, Luther Vandross), E.T. Thorngren (Talking Heads, Bob Marley), and Kevin Killen (U2, Peter Gabriel).
Lexicon 224 Digital Reverb features
Lexicon-endorsed model of legendary 1978 hardware, using the very same algorithms from the original hardware.
Models the entire analog circuit and digital path for total authenticity.
Eight reverb programs and one chorus program from final Lexicon v.4.4 firmware.
Features artist presets from famous Lexicon 224 users.
The Lexicon 224 Digital Reverb plug-in is available to purchase for $349 USD.
In addition to the Lexicon 224 Digital Reverb plug-in, v5.9 features improvements for the UAD-2 Satellite Firewire DSP Accelerators, including support for Avid/Digidesign 002 and 003, support for connecting up to two UAD-2 Satellites on qualified Intel-based iMac®, MacBook Pro®, or Mac mini® computers, lowered latency specs, and other enhancements for optimized performance.
More information: Universal Audio / Lexicon 224 Digital Reverb