Universal Audio has announced the release of UAD Software v8.5, which includes new plugins from Brainworx, Sonnox and Softube.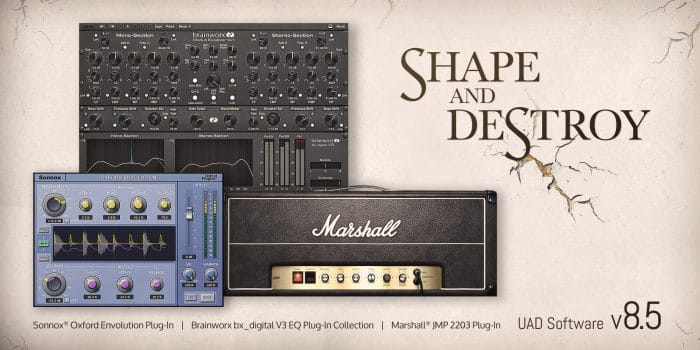 Universal Audio is pleased to release three new direct developer plug-ins for UAD hardware and Apollo interfaces — the Brainworx bx_digital V3 EQ Collection, Sonnox Oxford Envolution, and the exclusive Marshall JMP 2203 Guitar Amplifier, developed by Softube. All three plug-ins are part of UAD Software v8.5, now available for download at the UA Online Store.
Changes in UAD v8.5 Software
Marshall® JMP 2203 Amplifier — Introduced in 1975, the Marshall JMP 2203 amplifier ushered in a new era of Marshall rock dominance with its intense, modern-sounding crunch and bold clean tones. Developed by Softube — and available exclusively for UAD-2 hardware and Apollo audio interfaces — the Marshall JMP 2203 plug-in is a thorough emulation of this pioneering amp.< ?li>
Sonnox® Oxford Envolution — Developed by Sonnox, the Oxford Envolution is a frequency-dependent envelope shaper that can radically modify the sound of your sources by boosting sustain and ambience, or precisely cutting it.
bx_digital V3 EQ Collection — Developed by Brainworx, the new bx_digital V3 EQ Collection offers a dramatic update to the popular V2 EQ plug-in, giving you enhanced flexibility and signal-shaping power along with powerful M/S (mid/side) processing.
Improved graphical interface and Pro Tools page tables for existing UAD plug-ins: Fairchild 670 Legacy, Neve 1073 Legacy, Neve 1073SE Legacy, Precision K-Stereo.
Compatibility with Mac OS X El Capitan.
Mac OS X Mountain Lion is no longer tested.
The Marshall JMP 2203 Guitar Amplifier Plug-In is available for purchase for $199 USD (UAD Marshall owners can upgrade for $149 USD), Sonnox Oxford Envolution is $249 USD, and the bx_digital V3 EQ Plug-In Collection costs $99 USD (UAD bx_digital V2 plug-in owners can upgrade for $49 USD).
More information: Universal Audio