Universal Audio has announced that the previously announced OX Amp Top Box is now shipping worldwide.
OX is a premium reactive load box and guitar recording system, giving guitarists perfectly studio-miked amp sounds from their existing tube amp.
OX lets users play and record tube amps in their ideal sweet spots — from the edge-of-breakup to fully cranked — with perfect dynamics at any volume level, and with stunning mic, room, and speaker cabinet emulations at the turn of a knob.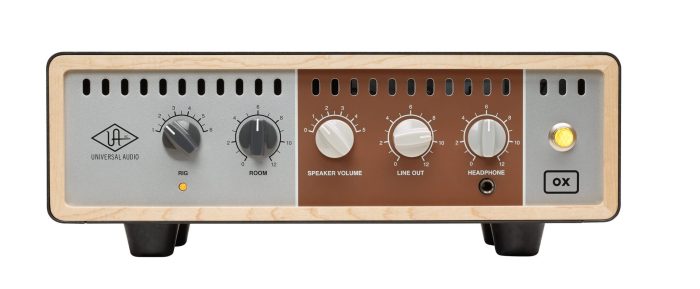 Featuring Universal Audio's breakthrough Dynamic Room Modeling and Dynamic Speaker Modeling, OX is the first amp recording system to accurately emulate speaker breakup and cone cry — an essential ingredient to organic tube amp tones — generating additional harmonics and sonic complexity when the amp is cranked.
Using OX Amp Top Box, guitarists can quickly audition a range of expert cabinet/mic/room combinations — and may find that they never need to mic their tube amp again.
The OX Amp Top Box also features a sleek software app for control over all of OX's parameters via its built-in Wi-Fi, letting guitarists audition, tweak, and store hundreds of cabinet/mic/room presets. Together with a great-sounding tube amp, OX quickly delivers the tastiest album-quality guitar tones of all time.
OX Amp Top Box is now shipping with an estimated street price of $1,299 USD.
Thunderbolt 3 Option Card for Apollo
Universal Audio has also announced the Thunderbolt 3 Option Card, which delivers high bandwidth, low latency connectivity for Apollo rackmount audio interfaces to Thunderbolt 3-equipped macOS Sierra/High Sierra and Windows 10 w/Anniversary (64-bit Edition) systems.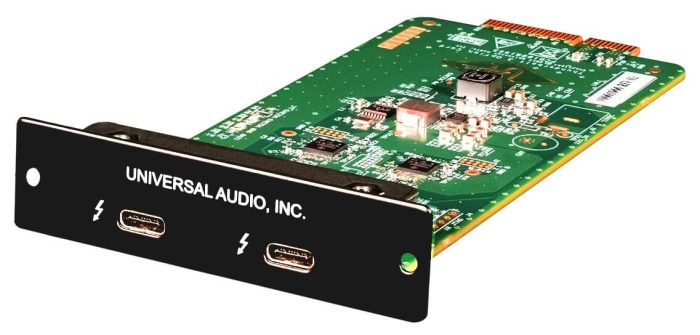 Thunderbolt 3 bandwidth delivers up to 40 Gbps for connecting hard drives, dual 4K monitors, and more.
"We're really excited to provide integrated Thunderbolt 3 connectivity across our Apollo rackmount product line," says Universal Audio CEO and Founder, Bill Putnam, Jr.

"We've worked hand-in-hand with Intel to create rock-solid Thunderbolt 3 connectivity on Mac and Windows for Apollo that enables customers to get the most out of their audio workstation environment."
The user-installable Thunderbolt 3 Option Card includes two Thunderbolt 3 USB-C ports, and easily slides into the expansion bay of Apollo 8, Apollo 8p, and Apollo 16 MkII audio interfaces.
Bus power is provided to all downstream Thunderbolt 3 peripherals, allowing music producers to connect devices in series with the Apollo interface — including additional Apollo or Arrow interfaces, UAD-2 Satellite Thunderbolt devices, hard drives, monitor displays, and more.
Thunderbolt 3 Option Card will begin shipping Spring 2018. Estimated street price to be determined.
More information: Universal Audio