Universal Audio has announced that the Thunderbolt 3 Option Card for Apollo rackmount interfaces is now shipping worldwide.
The card is compatible with Intel's new Thunderbolt 3 technology on the latest Mac and Windows computers.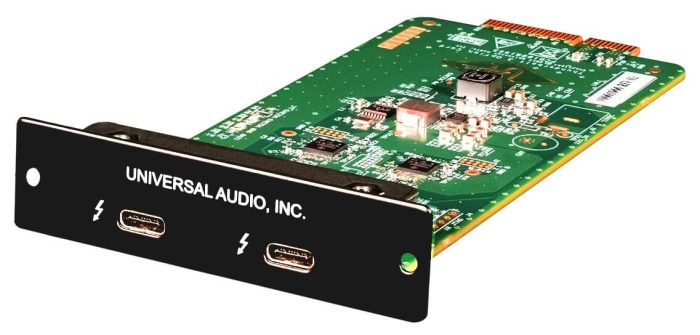 "We're really excited to provide integrated Thunderbolt 3 connectivity across our Apollo rackmount product line," says Universal Audio CEO and Founder, Bill Putnam, Jr.

"We've worked hand-in-hand with Intel to create rock-solid Thunderbolt 3 connectivity on Mac and Windows for Apollo that enables customers to get the most out of their audio workstation environment."
The user-installable Thunderbolt 3 Option Card includes two Thunderbolt 3 USB-C ports, and easily slides into the expansion bay of Apollo 8, Apollo 8p, and Apollo 16 MkII audio interfaces. Bus power is provided to all downstream Thunderbolt 3 peripherals, allowing music producers to connect devices in series with the Apollo interface — including additional Apollo or Arrow interfaces, UAD-2 Satellite Thunderbolt devices, hard drives, monitor displays, and more.
Thunderbolt 3 Option Card features
User-installable Thunderbolt 3 Option card for Apollo rackmount interfaces.
Two Thunderbolt 3 USB-C ports for daisy-chaining Apollos or peripherals.
Provides 15W bus power to downstream Thunderbolt peripherals.
Thunderbolt 3 bandwidth delivers up to 40 Gbps for connecting hard drives, dual 4K monitors, and more.
Requires macOS Sierra/High Sierra or Windows 10 w/Anniversary (64-bit Edition).
The Thunderbolt 3 Option Card is now shipping in stores worldwide at $499 USD MSRP.
More information: Universal Audio