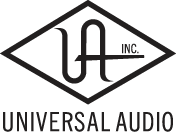 Universal Audio has announced the release the Thunderbolt Option Card for the award-winning Apollo high resolution audio interface.
Compatible with Intel's new Thunderbolt technology on the latest generation of iMacs®, MacBook® Pros, MacBook Airs®, and Mac minis, the Thunderbolt Option Card provides greater UAD plug-in instances, improved performance at higher sample rates, and reduced UAD plug-in latency versus Apollo's standard FireWire connection.

"We're really excited to be the first company to provide true integrated Thunderbolt connectivity in the audio interface market," says UA CEO and Founder, Bill Putnam, Jr. "We've worked hand-in-hand with Intel to create rock-solid Thunderbolt connectivity for Apollo, and we are looking forward to seeing the impact this important step forward has on the digital recording community."

The user-installable Thunderbolt Option Card includes two Thunderbolt ports, and easily slides into the expansion bay of Apollo. Bus power is provided to all downstream Thunderbolt peripherals, allowing music producers to connect devices in series with the Apollo interface — including hard drives, processors, and computer. When the Thunderbolt Option Card is engaged, Apollo's FireWire 800 ports are instantly reconfigured as a hub for connecting FireWire devices — such as a hard drive or UAD-2 Satellite.
Thunderbolt Option Card features
Enables Thunderbolt technology for Apollo DUO and QUAD Audio Interfaces on Thunderbolt-equipped Macs.
Provides greater UAD plug-in instances, improved performance at higher sample rates, and reduced plug-in latency versus FireWire.
Two Thunderbolt ports supply bus power for convenient daisy-chaining of peripherals.
Allows Apollo's built-in FireWire ports to be repurposed as a FireWire 800 hub over Thunderbolt.
Easy user installation – tool and instructions included.
Requires an Apollo High Resolution Audio Interface available from authorized dealers worldwide.
Thunderbolt cable sold separately.
The Thunderbolt Option Card is available from authorized Universal Audio dealers worldwide, with an estimated street price of $499 USD.
More information: Universal Audio / Thunderbolt Option Card