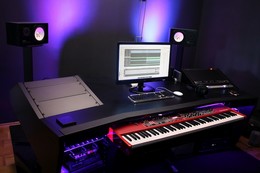 Unterlass Studio Furniture has announced the Duodesk Key 60, the latest addition to its flexible range of quality professional products proudly manufactured in Austria.
Hot on the heels of the company's successful DUODESK 60 launch product — billed as being a one-man media production workspace for recording, mastering, and mixing — comes the DUODESK 60 KEY. Confirms company founder Arno Unterlass: "The DUODESK 60 was the first furniture I designed and built; the next step was to integrate a keyboard shelf capable of handling heavy master keyboards. After a lot of research and prototype-building, the DUODESK KEY 60 was born. Its pull-out drawer enables composers and songwriters to work with large master keyboards, which can be rolled out from underneath the desk surface. An industrial- engineered guidance system ensures the necessary stability and strength required to handle the static and dynamic loads imposed at very low installation heights."

The DUODESK KEY 60 is available as standard in a silk matt black lacquered finish for €2,225.00 EURO (excluding VAT). Featuring a cleverly-concealed cable management system, its two 10-degree-angled desktop-mounted side racks (10HE each), two front-facing floor-level vertical side racks (12HE each), and two rear-mounted horizontal racks (4HE each) all amount to a lot of rack space — surely enough to satisfy most recording requirements, while its ergonomic shape, look, and feel simplifies workflow. The height- adjustable keyboard drawer can comfortably accommodate master keyboards up to 170cm wide and 16cm high — including the likes of Doepfer Musikelektronik's monstrous, heavy-duty flight-cased, 88-note LMK4+ example, with the front of the desk's armrest panel being custom profiled to exactly match the purchaser's master keyboard.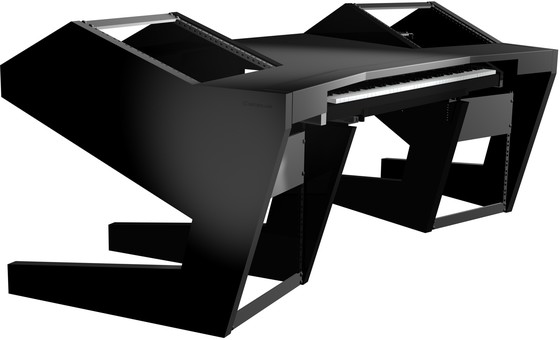 DUODESK KEY 60 features
Keyboard drawer adjustable in height.
Max. keyboard width / height: 170 / 16cm.
Linear guidance system.
Feet adjustable in height.
Cable-Management.
Elaborately coated surface of the table legs.
Open access to the rear sides.
Up to 52 RU for Outboard Equipment.
Rackunits Top/Sideracks: 2 x 10HE (10°).
Rackunits Floor/Sideracks: 2 x 12HE vertical.
Rackspace Back: 2 x 4HE horizontally.
Configurable in width: +20 und +50cm (options available).
The Duodesk Key 60 is available to purchase for 2,225 EUR.
Production time is approximately four weeks from order placement, and shipping is available from 100 EUR, depending on destination. Prices excluding VAT.
More information: Unterlass / Duodesk Key 60