Audio Bundle Deals has launched a new Omnisphere Expansion Bundle sale, offering discounts of up to 70% off on a collection of 10 sound libraries for the Omnisphere virtual instrument from Spectrasonics.
With a total value of 262 EUR, the 10 products are on sale in a single bundle for only 99 EUR. Individual libraries are up to 70% off regular.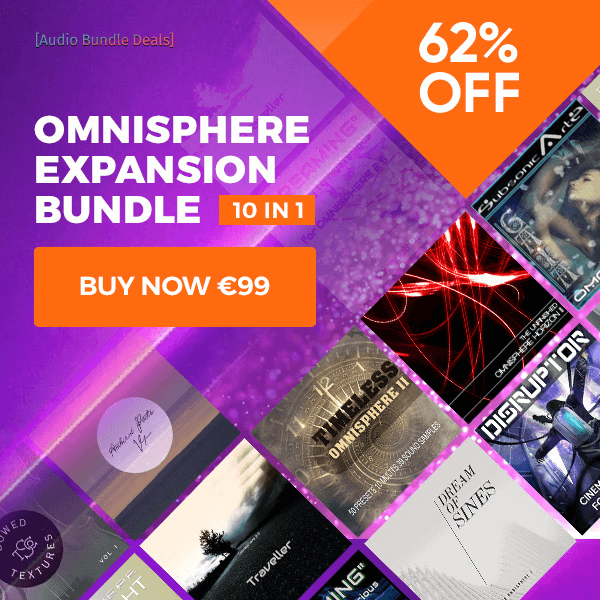 A monstrous range of sounds from some of the best sound designers in the industry! 846 Patches & 60 Multis! All products (except Gaia & Ambient Pads Vol. 1) require Omnisphere 2

Buy each product individually at a huge discount or grab them all for mega savings! 10% of your purchase goes directly to charity!
The sale includes the following titles:
Soundethers Dreaming (9 EUR):
A unique collection of unheard sound sources. 95 Patches.
Artenuovo Delight (12 EUR):
Thick, dramatic & warm analogue synths, basses, leads, plucks. 145 Patches.
That Worship Sound: Dream Of Sines (9 EUR):
Unique, diverse, gritty and everything in between sounds. 50 Patches.
Subsonicartz Gaia (10 EUR):
Ambient, organic, wonderful atmospheric sounds. 136 Patches.
Pulsesetter Sounds Disrupter (9 EUR):
Hybrid film and video game score oriented sounds. 187 Patches.
Patch Hut Timeless (4 EUR):
Atmospheric pads to take you to the darkside. 10 Multis & 39 Sound Samples.
The Unfinished Omnisphere Horizon II (9 EUR):
A 'go to' resource for soundtrack and electronica projects. 128 Patches.
The Sample Company Bowed Textures Vol 1 (9 EUR):
Detailed bow instruments with a ton of personality. 100+ Patches.
Triple Spiral Audio Traveller (19 EUR):
Retro synths, majestic ambiences, floating atmospheres & more. 200 Presets & 50 Multis.
That Worship Sound Ambient Pads Vol. 1 (19 EUR):
Built from layered choir, organ, juno, & ambient pad samples. 4 Ambient Pads.
The sale ends February 10th, 2019.
More information: Audio Bundle Deals