Reveal Sound has announced an update to the Spire software synthesizer instrument for Windows and Mac.
Version 1.5.6 fixes audio glitches in Logic Pro and FL Studio. Apple M1 Chip support has been added for AU and VST versions, and the update also includes some minor GUI improvements.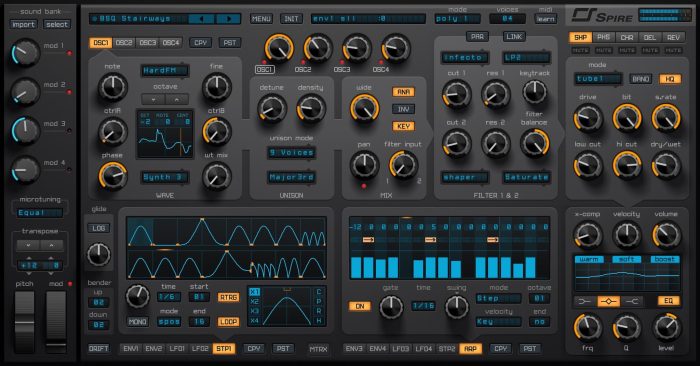 Spire is still on sale at up to $90 USD off until January 14th at Reveal Sound and Plugin Boutique.
Lostin70s has released a new version of the Modern Deluxe two-channel guitar amplifier emulation for Windows and Mac.
With version 2.1.4 the interface is now resizable. The update comes with user presets (with virtual foot board), new stomps, and a new ergonomic stomp board in which you can now add the same pedal multiple times.
The Modern Deluxe is a free download in VST/VST3 and AU plugin formats at the Lostin70s website. It is now also available for iOS/iPad as an AUv3 plugin, priced $1.99 USD at the App Store.
The MultitrackStudio audio/MIDI multitrack recording software for Windows and macOS by Bremmers Audio Design has been updated to version 9.7.2, introducing some improvements and fixes.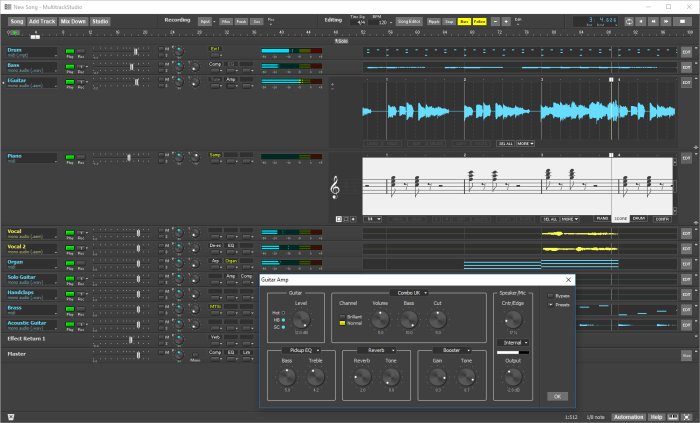 Changes in MultitrackStudio v9.7.2
'Try pull mode' is now enabled by default on Windows 10. Existing settings aren't changed.
Fixed: Controller/Automation/Automated Fader editors weren't updated immediately after drawing a curve.
Fixed:Automated Fader effect didn't remember dot at zero position.
Fixed:Pianoroll/score editor Repeat option was grayed out when a single note was selected.
Fixed (Mac): SoundFont Player could make program unresponsive on macOS 11.
Fixed (Mac): rare issue with AU plugins that return invalid floating point numbers.
Fixed (Mac): issue with some audio devices that sometimes return an invalid floating point number for the recording level.
MultitrackStudio is available for purchase starting from $69 USD. You can download a free Lite version to give it a try.
The latest update of MusicDevelopments' Melodya advanced melody generator and motive editor plugin features a chords track, which lets you generate a melody for a chord progression.
Version 1.1 also improves time signature handling, allowing not just quarter notes. An 'Invert Piano Roll Scrolling Direction' setting has been added, and the user interface was updated.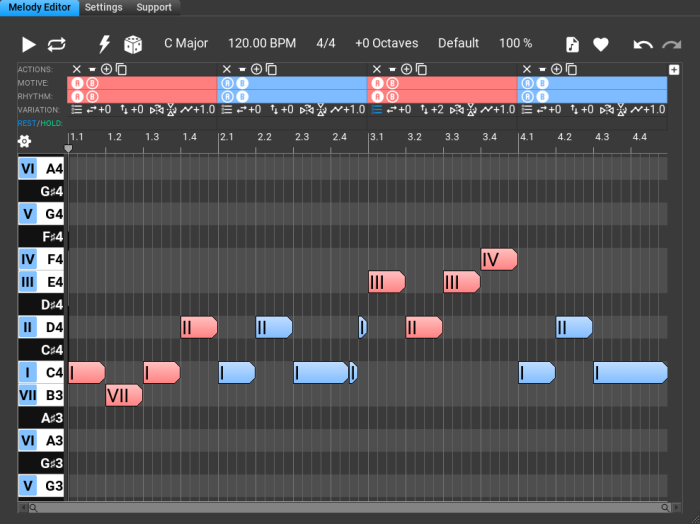 The update also fixes an issue which occurred when editing notes with global octave offset, and a problem with UI theme import/export was fixed as well.
Melodya is still available for $29 USD until January 10th as part of a Holiday Sale with 40% off on all MusicDevelopments products.