UVI has announced the release of its Falcon 2 creative hybrid synthesizer instrument for Windows and Mac.
The flagship hybrid instrument now features 16 oscillators, 90+ effects, 11 modulators, dozens of scripts including sequencers, analyzers, harmonizers and utilities, over 1,000 handcrafted presets, 500 wavetables, MPE controller support, microtonal tuning, native multichannel audio up to 10.2 channels and more.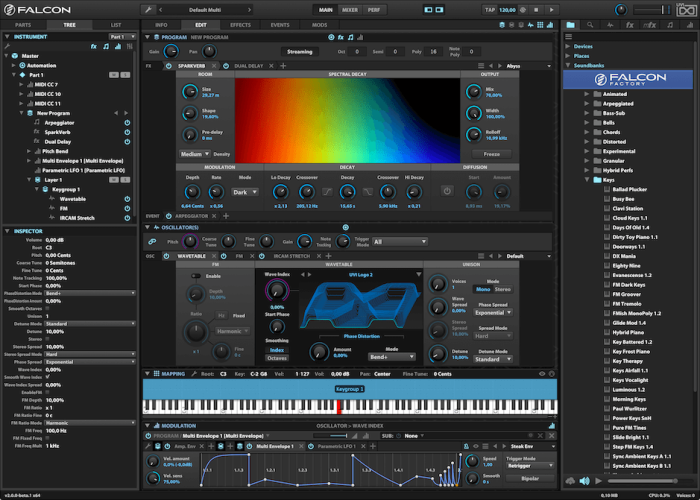 Falcon 2 adds the brand new Additive oscillator, an easy-to-use additive oscillator inspired by classic subtractive synthesis with additive twists like partial stretching, frequency shifting, fractional order filtering, even/odd harmonic control, continuous morph from square to saw and more; new effects such as Tape Echo, a recreation of the famous '70s hardware tape delay; SKF, a circuit-modeled second-order single op-amp nonlinear Sallen-Key lowpass filter; Formant Crusher, a screaming lo-fi take on formant filtering; updated Redux effect with an entirely redesigned algorithm for analog bit-crushing; a new Parametric LFO modulator, giving parametric control to shape, symmetry, pulse width, and swing; multiple new script-based sequencers including Euclidean Tonal, Euclidean Drum, and the featured 8-part X0X-style Drum Sequencer; 150+ new wavetables and 100+ new factory sounds.

As well, Falcon 2 adds many quality-of-life updates such as the new Modulation Quick Menu, improving usability of complex patches by providing easier navigation of modulators; and User Templates for keygroups, allowing users to create their own keygroup starting-points in addition to the factory Synth and Sample options.
Changes in Falcon 2
Additive oscillator.
Tape Echo FX.
Sallen Key Filter FX.
Entirely redesigned Redux FX algorithm for Analog Bit-crushing.
Formant Crusher FX.
Track Delay FX.
Enhanced 3-Band Compressor.
Parametric LFO module.
Drum Sequencer script.
Euclidean Drum and Tonal Sequencers script.
Chord Bank script.
Range limiting script.
Keygroup User Templates.
Modulation Quick View.
Various fixes.
160+ new wavetables.
150+ new handcrafted presets.
Falcon 2 is now available for the intro price of 244 EUR/USD, including 2 free expansions (regular 427 EUR/USD). Users can choose from Analog Motion, Atmospherics, Cinematic Shades, Devinity, Digital Motion, Eternal Funk, Ether Fields, Pulsar, Spectre and SubCulture.
The discount is applied automatically when users add Falcon and two Falcon Expansions of their choice to their cart. Additionally, every purchase of Falcon includes a 100 EUR/USD voucher good towards any subsequent purchase.
The offer is valid through October 27th, 2019. Current Falcon users can upgrade for free through UVI Portal.
More information: UVI