UVI has announced the release of IRCAM Solo Instruments 2, a major update aimed at modernizing this powerful library with new features, an all-new user interface, and numerous workflow and QoL enhancements.
Updates include an enhanced scripting engine with new expression modes, new performance modes for stringed instruments, an all-new UI design, MPE and Poly Aftertouch support, improved sample library, improved presets and keyswitch groups, improved dynamics and envelopes, and a new effects section.
Featuring 16 instruments and over 550 playing styles recorded at the renowned IRCAM Institute, IRCAM Solo Instruments 2 is a unique and extensive instrumental resource for those looking take their composition, sound design and music production into new territory.

Explore instruments you know and love in a completely new way with sophisticated performance controls and a massive library blending traditional techniques with unusual and experimental playing styles and articulations, all available at a press of a key thanks to enhanced keyswitch groups. With IRCAM Solo Instruments 2 you can now play stringed instruments naturally with virtual hand positioning implemented on-the-fly, and achieve a greater sense of expressive control and feedback with native MPE and Polyphonic Aftertouch support.

IRCAM Solo Instruments 2 also features a completely new user interface, improving workflow thanks to an ergonomic and uncluttered single-pane design. As well, the core sample library has been painstakingly edited to provide cleaner and more natural sustain phases across the entire suite. With improved aesthetics, more natural sound, a modernized engine, new ways to perform, and new effects, IRCAM Solo Instruments 2 is an unparalleled tool for artists inclined to the classics and avant-garde alike.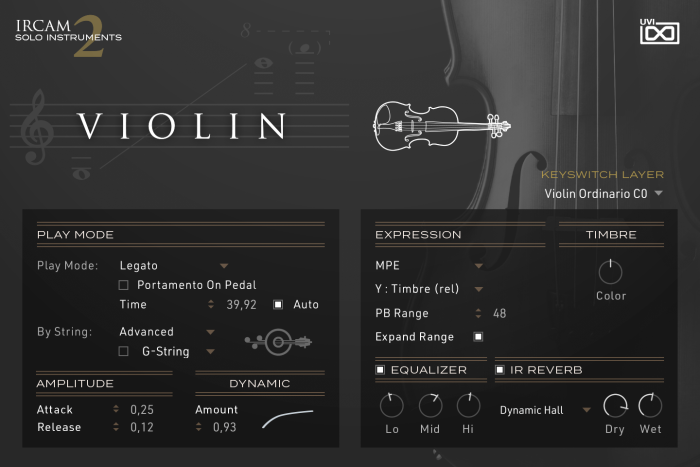 Changes in IRCAM Solo Instruments 2
Improved scripting engine allows multiple play and expression modes, including legato, portamento, poly legato and poly portamento, now controllable by modwheel.
New Play mode for all stringed instruments, allows user to play instruments with virtual hand positioning for more natural expression.
All-new UI design, improves aesthetics and usability.
New MPE and Poly Aftertouch support.
Improved sample library, delivers cleaner sustains.
Improved presets and key switch groups.
Improved dynamics section.
Improved envelopes (more natural response).
Improved effects section.
IRCAM Solo Instruments 2 is available now at an introductory price of $199 USD / 199 EUR through July 19th, 2020 (regularly 299 USD/EUR), and is free for all existing users.
More information: UVI