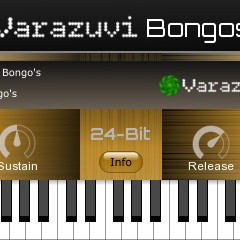 Varazuvi has introduced Varazuvi Bongos, a free virtual bongo instrument for Windows.
Varazuvi Bongos™ is a 24 bit virtual instrument plugin designed to be used with your existing DAW (Digital Audio Workstation) and host software. It features real recordings of the bongo drum captured in high resolution 24 bit – 48khz sample rates for a fuller and more dynamic experience.

You have complete control over parameters such as attack, decay, sustain, release. volume and reverb in order to shape the sound exactly as you want it. There are 38 different hits to give your music that ethnic feel & quality, each encompassing multiple velocity layers.
The plugin is available to download for Windows (VST) at no cost.
More information: Varazuvi