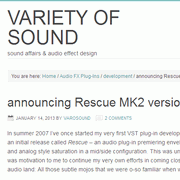 Variety Of Sound has announced Rescue Mk2, an update to the envelope dependent signal amplification and analog style saturation in a mid/side configuration
While the initial Rescue implementation was a little bit quirky concerning transient handling, I've managed to developed a 'stateful' approach over the last years which turned out to be way smoother not only in terms of transient response but also in terms of signal saturation. All this comes down now and there is almost nothing to change to the original concept other than the underlying technology which had been emerged and improved.

Rescue MK2 is going to offer transient handling 'smooth like cake', stateful saturation and an authentic analog signal path emulation 2.0. Rescue MK2 maintains a super realistic stereo image, increases depth perception and works great as both, mixing tool and summing on the 2-bus. The new Rescue version will be available by end of January as a freeware VST plug-in.
More information: Variety Of Sound