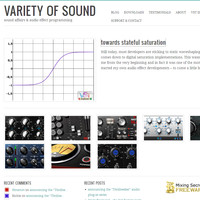 Variety of Sound has announced Thrillseeker, a new series of audio plug-ins.
The brand new and upcoming Variety of Sound Thrillseeker audio plug-ins series is going to be a plug-in collection premiering Stateful Saturation which is a sophisticated DSP core system for musical harmonic distortion generation based on authentic and truly stateful non-linear models.

Stateful Saturation takes advantage of some sought after analog qualities and preserves them accurately during their transfer right into the digital domain:

high frequency shimmer and sheen without digital harshness
depth and '3d' imaging side effects before distortion itself becomes apparent
audio transient dynamics that remains vibrant and alive
natural and impressive bass response

Stateful Saturation opens the door for quite a number of amazing applications ranging from smooth harmonic exciters up to convincing amplifier effects and the DSP core can easily be set in context whether it's a compressor output stage or a preamplifier circuit, just to name the two.
The first plug-in in the series will be opto-electric circuit model ThrillseekerLA, an audio leveling amplifier with amazing analog like qualities.
It offers sophisticated and deep gain riding full of musical character and attitude but with virtually no inter-modulation (IM) distortion artifacts!
More information: Variety of Sound