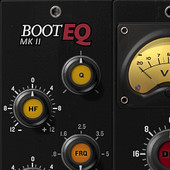 Variety Of Sound has released bug fix releases for some of its freeware effect plug-ins for Windows.
Changes in BootEQ mkII 2.1.1 / Density mkII 2.0.3 / FerricTDS 1.5.1 /NastyVCS 1.0.1
Fix: crashing and hanging when opening multiple instances of the same plugin in Cubase and some other hosts
Fix: problem with plugin GUI not initializing correctly in Samplitude and some other hosts
Minor fix: consistent VST vendor name tag and release version number (in credits pop-up) added/changed for all plug-ins
Note: If you are not affected by this issues there is no need to download and install them. The individual plug-ins can be downloaded as singles via the Downloads page. Until end of January the whole package is available as one single download.
The NastyDLA 1.0.1 update still remains in beta until the chorus issues are finally sorted out and is not yet released.
More information: Variety Of Sound