Plugin Boutique has launched a sale on VPS Avenger, offering 50% off on the versatile synthesizer instrument for a few days only.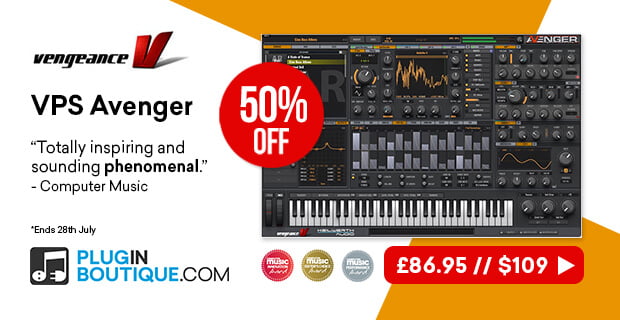 3 years of planning, development, dedication and love have flowed into Avenger to make this synthesizer the most complete and best synthesizer on the market.

Avenger is capable of a lot of common and new forms of synthesis, has almost unlimited modulation possibilities and a wonderful -as well as informative -graphic interface, by which you can experience live, direct and to the point, what is happening to and with a sound or modulation.
The synth is on sale for only £86.95 GBP / $109 USD until July 29th, 2019.
All other Vengeance Sound plugins are also available at a 50% discount in celebration of its 10th anniversary.
Tape Stop, Glitch Bitch and Philta XL are on sale for $27.50 USD each. Multiband Sidechain3, Multiband Compressor and Metrum are $59.50 USD. Phalanx starts at $82 USD, and expansion packs for both Metrum and Phalanx are also 50% off.
The offer expires July 29th, 2019.
More information: Vengeance Sound