Vengeance Sound has launched Glitch Bitch, a Vengeance Producer Suite effect plug-in for creating glitch and stutter effects.
VPS Glitch Bitch is your new favourite tool, when it comes to mangle your audio tracks: shorten or increase buffer sizes, sync buffers to your host tempo, add HP- or LP filters, apply rate reducing, reverse the buffers, use the "advance buffer mode" to create unheard effects, pitch down your buffers, apply volume and pan modulations, draw your custom envelopes (n-point envelopes), use the internal sequencer for triggering – the possibilities are overwhelming!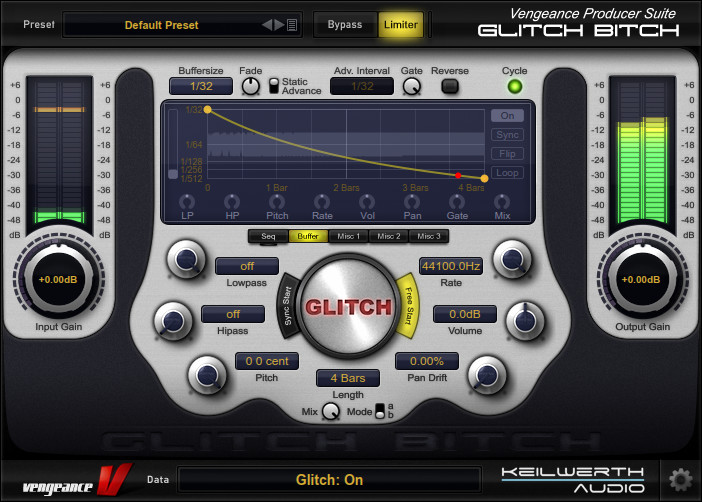 Glitch Bitch features
Synced buffer sizes.
Advance buffer mode.
Reversible buffers.
Buffer gate time.
HP- and LP filters.
Rate reducer.
Volume and pan modulations.
Internal sequencer.
Note value synced envelope mode.
4 independent n-point envelopes.
Pitch effect.
Synced and free start modes.
Intelligent and precise timing.
2 different dry/wet modes.
140 dancefloor destroying presets by Manuel Schleis.
The plug-in is available for Windows and Mac (VST/AU/AAX), priced at 49 EUR.
More information: Vengeance Sound / VPS Glitch Bitch