Vermona has announced availability of fourMative CONTOURS, its first 'envelope' entry to the ever-expanding Eurorack small-format modular system world.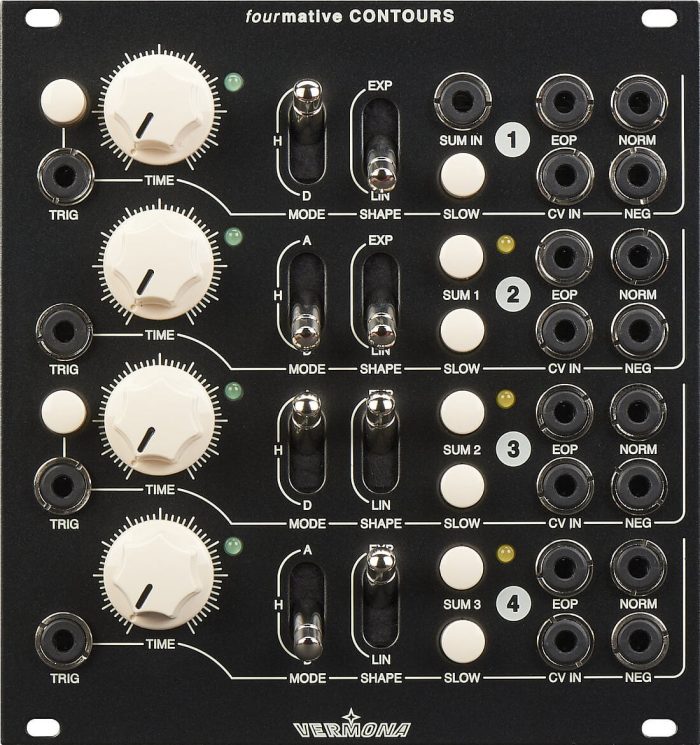 fourMative CONTOURS far exceeds the functionality of a traditional envelope generator, delivering up to four single-phase envelopes that can be combined to achieve much more complex voltage-controlled curves.
fourMative CONTOURS hast four individual channels, we decided to call them units. Each of these units can work as attack-, decay- or hold-phase, the first two with a linear or exponential response. Units can be used individually or in any combination. With these features alone, fourMative CONTOURS is a strong base for many many different modulation tasks.

Each unit can run within a time range from half a millisecond up to 30 seconds. To ensure sensitive adjustments you can choose between SLOW and FAST speed range setting, the latter specialized for crisp and percussive sound applications.

However, that's only half the truth. fourMative CONTOURS' units are equipped with CV inputs, not only allowing to modulate the times but also extends them in both directions. If you have the task for a two-hour-envelope, fourMative CONTOURS can deliver it.

With simple internal patching, you can loop individual or combined units. Thanks to its high rates fourMative CONTOURS can not only work as LFO but also as audio-source.
Shipping now, fourMative CONTOURS is available to purchase for an RRP of 399 EUR (Europe) and $489 USD (USA).
More information: Vermona