Vers is a new compact audio systems company, by industrial designer David Laituri and his parter at Sprout Creation.
The company focuses on high-quality wood crafting and rich sound.
Laituri says:
Vers is a line of hand crafted real wood sound systems for iPod, iPhone and others, with a lot of thought put toward sustainability, using recycled materials where possible, selecting energy efficient components, eliminating lead, heavy metals and other chemicals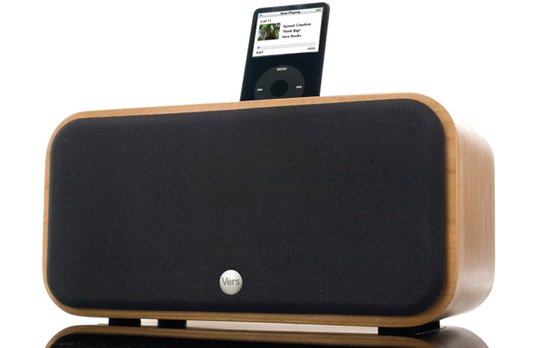 Their first product is Vers X2, a compact, all-in-one system for iPod products (price: $179).
Vers X2 features
Plays and charges: iPod Video, iPod Nano, iPod mini, iPod, iPod classic, iPod touch and iPhone
Hand-crafted cherry veneer cabinet – no two alike
Includes 8 iPod adapters and universal MP3 dock
2 3″ custom-engineered 15 watt speakers
Dual port design for deeper bass
Advanced 14 function remote control with 25′ range
3.5mm audio cable for use with other MP3 players
3.5mm Audio Input and Audio Output
Full range speakers add clarity and realism to your music
Dimensions: 11.5″ W x 5.6″ H x 5.6″ L
Weight: 6.5 lbs.
Visit Vers for more information.
Link via core77