Versilian Studios has released Marimba and Etherealwinds Harp, two new instrument plugins and Kontakt sound libraries.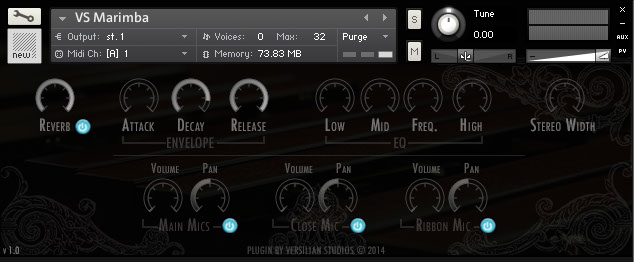 The Marimba is a relative of the xylophone, distinct for its large, typically semi-tubular resonators found underneath the keys, and larger range than its smaller counterpart. Its history is complex, having early origins in Africa and Central America, but it found a prominent home in the halls of America's Vaudeville at the start of the 20th Century. The marimba is unique from many modern instruments in that its playing style is still evolving quite rapidly, with new applications and playing techniques coming forth every few years.
Marimba features
4-6 RR, 3 velocity layers. Very dynamic sound.
3 mixable mic positions: Main, Close, and Ribbon.
Pre-recorded rolls at different velocities.
Performance by professional mallets player.
The Marimba is available for purchase for $15 USD.
The Etherealwinds Harp features the sounds of a diatonic folk harp recorded by the Newgrounds musician Etherealwinds.
Folk/lever harps differ from their big orchestral brothers by having a smaller range, and additionally by the functionality of their tuning system. On a pedal harp, the orchestral staple, levers at the base, activated by foot, control all the notes of the same variety (so if you change C to C#, all the C's are sharped). However, on lever harps, each note has an independent "sharping lever", which can raise that particular note by a half step. This system only allows a halfstep of motion- each octave has to be sharpened if it is desired. In addition, the smaller body of the lever harp gives it a different overall tone than their big brothers.
Etherealwinds Harp features
Diatonically sampled, 2x RR, 3 velocity layers.
Celtic Lever/Folk Harp with a delicate, warm tone.
Full Decays Sampled.
Played and recorded by Newgrounds musician Etherealwinds.
The Etherealwinds Harp is available for download at no charge.
Versilian Studios has also released updated versions of Tubular Bells and Timpani, which resolve some issues, enhance the user interface, and add functionalities.
More information: Versilian Studios