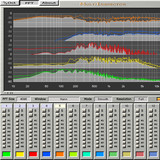 VertexDSP has released version 2.3.0 of MultiInspector, a multitrack real-time spectrum analyzer for Windows and Mac.
Changes in MultiInspector v2.3.0
Windows x64 version added.
Denormal problem fixed.
The AlphaBlend option now also works for the 32-bit version in Windows x64.
The measurement cursor now works correctly in V-Space mode.
Fixed a drawing bug under certain circumstances if audio has been bypassed.
Note: The minimum system requirements are now Windows XP/Mac OS X 10.4. Windows 2000 and Mac OS X 10.3.9 are no longer supported.
MultiInspector is available to purchase for PC and Mac (VST/AU), priced at 89 EUR excl. VAT.
More information: VertexDSP