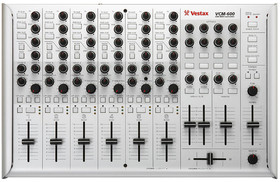 Vestax is now shipping the VCM-600, a DJ MIDI controller designed with Vestax mixer technology.
160 parameters of the DJ software can be assigned to the advanced control section, and has excellent compatibility with Ableton LIVE.
The VCI series was designed with JOG wheels to duplicate turntable operation. On the other hand, the VCM-600 is a controller specialized for mixing, which offers excellent performance to DJs who mix with digital music media and computer based systems.
The VCM-600 shares the same quality control parts used on Vestax mixers and 2 LED panels are placed on each side of the controller to illuminate the top panel for clear operability and vision in clubs.
Vestax VCM-600 features
The VCM-600 can control 160 parameters of Ableton Live software and other MIDI compliant DAW software with high resolution MIDI signals sent via USB.
Multi track control (track bank)
High quality input faders and pitch faders from the VCI-100 and PMC-580 are also applied to the VCM-600 for advanced operability.
Vestax quality Input fader/Cross fader curve control
Simple plug & play activation with Macintosh and Windows operating system computers.
Lightweight, high durability aluminum body.
Bundle software : Ableton Live Lite 7 Vestax Edition.
The VCM-600 is now shipping and available in stores for an MSRP of $1,299 USD (street $899 USD).
Visit Vestax for more information.