VEVA Sound has announced the release of the Studio Collect Plugin, a "Virtual Second Engineer" that enables smoother session data collection.
In the Golden Age of recording studios, second engineers played a crucial role- they kept the entire session organized and took detailed notes about the session participants and specific details of each session. Some of this handwritten information would travel with the recording on the back of the tape box and end up as liner notes on a released album cover.
The digital era transformed this process, democratizing recording. This meant leaner teams in the control room and more diverse, less systemic methods of recording and capturing recording information. The tradition of maintaining detailed notes was largely lost as the apprentice and mentoring routines in place that would train young engineers in this system dissolved.
Today when accurate and complete metadata are the key to distribution, discovery, and payment, the way recording data is gathered has become fragmented at the most basic level. The second engineer's craft has fallen by the wayside. More importantly, the reasons why this metadata is valuable has for many either been misunderstood or lost entirely.
VEVA Sound is changing this. Their latest product, SCP, a free plugin, is designed to work with any digital audio workstation and gather data about recording sessions, akin to a virtual second engineer.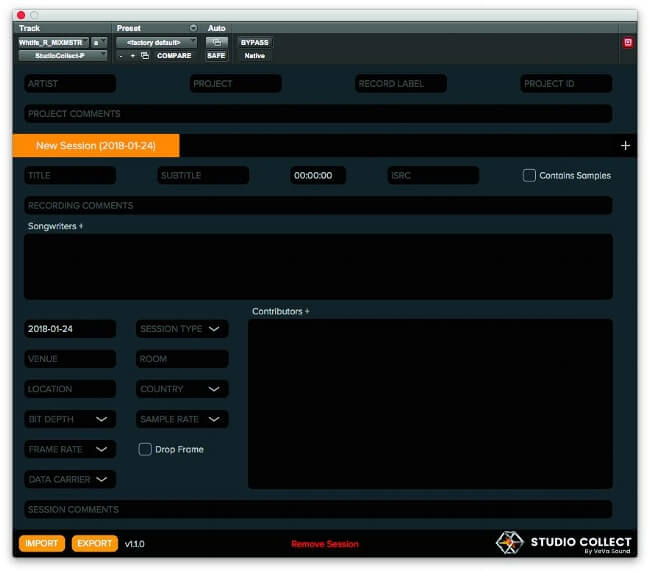 VEVA created this plugin based on nearly two decades of working with producers, engineers and artists within studios, collecting metadata, preserving large catalogs, and working with major labels.
"From VEVA's years of working with major labels, we've learned how to organize and gather metadata," explains Deborah Fairchild, VEVA's Executive Vice President. "We've had engineers send us information in texts, emails, Word documents, spreadsheets. Often the responsibility falls on the mix engineer who wasn't part of any of the recording process and truly doesn't know who played on the tracks, so tracking down this data takes time and is sometimes inaccurate. There are lots of legitimate complaints about the lack of credits, but there are also many reasons engineers and other contributors aren't getting credited (or inaccurately credited) because the credits aren't being collected while the music is being created."
"We created an elegant tool that is designed not to interrupt the workflow of engineers and enables them to easily enter information," says Drew Waters, VEVA's L.A. Vice President. "It's instantly accessible, instead of someone trying to create their own system."
VEVA comes by its insights into the recording process with integrity and insider knowledge. The entire team has significant foundations in audio engineering and remains relevant in the industry. In addition to this collective knowledge, SCP was refined thanks to input from their fellow members of the Producers and Engineer's wing of The Recording Academy.
The SCP plugin supports recording engineers' data collection efforts as they work on a session in real time. Based on the international DDEX RIN standard, the plugin encourages engineers to input required fields. The plugin offers the option of generating and sharing a fully compliant RIN (recording information notification) as a PDF or XML file.
The plugin is the first part of the Studio Collect Suite that VEVA will roll out later this year, which will provide a wider, more powerful set of tools for managing data, files, and workflow in the recording studio. "The plugin is a basic but highly functional version of what the platform will provide," says Fairchild. "The plugin has flexibility, and gives you prompts when you want to create an RIN file. To submit an RIN requires a minimum field set and it flags the basic information and asks you to fill it in. And, it is free." These files form the basis for all music metadata, this vital information that determines track credits, searchability, and royalty payments.
To be complete and accurate, metadata needs to be collected at the source. Without this data, files and tracks may be lost in the deluge of recorded music files. "If you can't find it, it doesn't exist," notes Waters. "You can't find what you are looking for without meaningful metadata. Collecting content when it's created can save time and money in the future. If information is requested of you from a label or producer, and this information isn't easily accessible, your time, and therefore your money, is wasted. As a content creator or a content manager, knowing as much concrete information (metadata) about your assets and where they reside also creates opportunity to monetize and remonetize your work. For example, there is usually a short window for sync and licensing opportunities. Often the first person to return music to a music supervisor get's the sync."
As Fairchild says, "This system future-proofs your hard work."
Efficiency is proving increasingly important as engineers' jobs shift considerably in the indie music era. For independent artists and even small labels, engineers often act as repositories for files, tracks, and other assets, making data, searchability, and organization vital. These professionals need a toolkit to suit their new role. "We're giving engineers the same tools the majors have been using," Waters remarks. "We've been working behind the scenes with them for years, and now we're ready to share what we've learned."
More information: VEVA Sound