Audio Plugin Deals has launched a sale on the Ravenscroft 275 virtual piano instrument by VI Labs, offering a 50% discount on the one-of-a-kind concert grand for the free UVI Workstation and Falcon.
The Ravenscroft 275 recreates the 275 Titanium concert grand by Ravenscroft Pianos. The instrument comes with nearly 17,000 samples and 4 discrete microphones, and features an easy to use interface.
For an all-time low and APD exclusive price of $99, get this one-of-a-kind concert grand which has been recreated using nearly 17,000 samples and 4 discrete microphones, controlled from an easy to use interface. It's one piano that works for all styles. And gorgeous detail is abundant.

Crystal clear hammer attacks, unique muted strikes, staccato release trails, lush Una Corda, and sampled resonance lead to a level of realism previously unobtainable in a virtual piano. This is a unique opportunity to grab this amazing library at half price, don't miss out!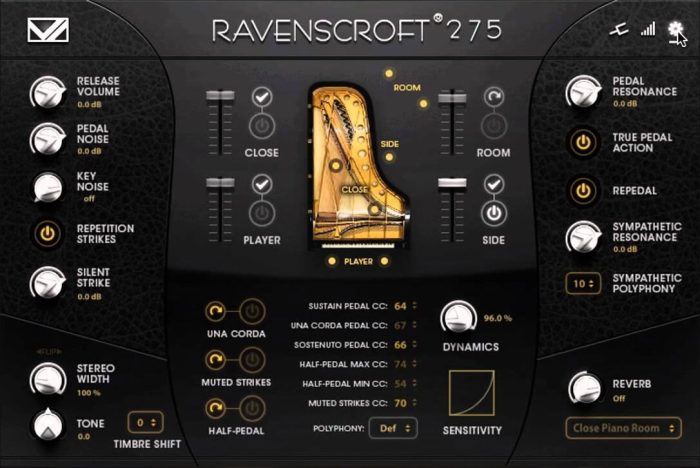 Ravenscroft 275 features
Nearly 17,000 samples of the one-of-a-kind Model 275 Titanium concert grand, accurately simulated in this virtual instrument.
Officially approved and authorized by the makers of Ravenscroft Pianos.
100% sample-based, no modeling or synthesis used.
Very efficient use of RAM and CPU resources.
4 discrete Microphone Perspectives available.
Fully sampled Una Corda pedal.
Sympathetic and Pedal Resonance.
Adjustable Sympathetic Resonance polyphony.
Repedal and True Pedal Action for realistic sustain pedal control.
Half-pedal mode is sample-based and fully adjustable.
Muted Strikes which offer a unique tone.
Customizable MIDI and Dynamics response.
22 pristine Convolution Reverbs included.
Thousands of Release samples, including true Stacatto Releases.
19 total velocity layers including Silent Strike samples.
Powerful Stereo Width and Timbre Shift controls.
Custom tuning with presets and micro-tuning supported.
Lossless flac format allows highest quality with smallest drive space requirements and fast loading times.
Computer-based activation. Use on up to 3 machines, no dongle required.
The Ravenscroft 275 is on sale for $99.99 USD until February 8th, 2018.
More information: Audio Plugin Deals