Vibrant Digital Engineering has released version 1.4.0 of Diode-108, a drum machine app for iPad, adding MIDI sync out and MIDI note out to the already existing MIDI in capabilities.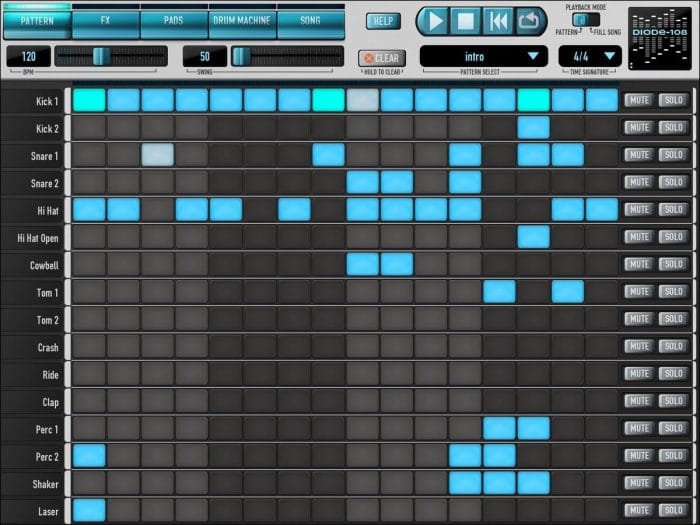 Diode-108 is the only iPad drum machine on the market with direct control over every effect—HIT BY HIT. The new leader in drum machines is here, with 16 voices (not 9), drag-and-drop per beat effects, note mode to change pitch, and the ability to make and share kits. Revolutionize your groove-making and create sounds you've never heard before.
Diode-108 v1.4.0 features
Drag and drop effects let you put effects on individual beats.
Drum kits licensed from partners Dubsounds, Samples From Mars, Orange Tree Samples, and 99Sounds.
16 drum voices with unlimited patterns that you can arrange into your own songs.
Each pattern can have its own swing.
Turn NOTE MODE on for any voice and control the musical note (up or down an octave from the original pitch). Great for basslines or pitched percussion.
Wav sample import.
Mix and Match kits (easily substitute any sample in any kit). Want an 808 kick in a 909 kit? No problem.
Kit Load and Save. Share kits with your friends.
See the Diode-108 in action in this video review and demo.
Dropbox, AudioShare, AudioCopy, IAA, & Audiobus support.
MIDI sync (in an out).
MIDI Note In and Out.
Microphone sampling.
Song In/Out markers. Work on any section.
Choke Groups.
The app is available for purchase for $2.99 USD.
More information: Vibrant Digital Engineering