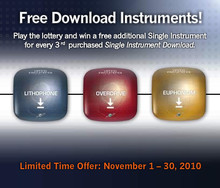 Vienna Symphonic Library has announced a lottery where you can win a free download instrument.
Play the Vienna Instruments Lottery! During the month of November, every third Single Instrument Download order in our web shop will earn you a free bonus Single Instrument!

Your chances to win a free additional Download Instrument are

33% if you purchase 1 Single Instrument
67% if you purchase 2 Single Instruments*
100% if you purchase 3 Single Instruments*

* in one order

By submitting your order in our web shop, your purchase is entered into our list of purchased Single Instruments. If you have won a free Single Instrument Download, we'll immediately send you an email asking you which additional instrument you'd like to receive for free.
More information: Vienna Symphonic Library