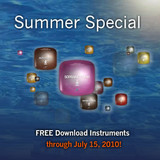 Vienna Symphonic Library has announced a Summer Special, a limited time offer in conjunction with purchases of the Vienna Special Edition collections, Vienna Suite and Vienna MIR software.
Customers who buy Vienna Suite, the Vienna Special Edition or the Special Edition PLUS (Standard or Extended Library) between June 15 and July 15, 2010, receive one free Single Instrument Download of their choice.

Customers who buy Vienna MIR will be rewarded with two free Single Instrument Downloads. Purchases may be combined in order to receive more than one or two free Single Instrument Downloads, as long as all purchases and registrations occur during the promotional period. A list of all available download instruments can be found at the Vienna Symphonic Library's website.
VSL also announced that ILIO, Vienna Symphonic Library's distributor for North and South America, is currently offering significant one-time discounts on all Extended Libraries of the Vienna Instruments collections.
Customers may save between 15% and 30% on all Extended Libraries depending on how many they purchase between June 15 and July 15, 2010. Considering the recent approximately 20% price decrease on most DVD Collections, as well as the new specially priced bundle packages, Vienna Instruments are more affordable than ever. Details of this limited time offer may be found at www.ilio.com.
More information: Vienna Symphonic Library / ILIO