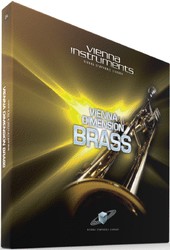 Vienna Symphonic Library has announced Vienna Dimension Brass, a new sample library featuring brass instruments.
Vienna Dimension Brass gives an entirely new meaning to the term multi-samples. These instruments were recorded in a very unique way at Vienna's famed Silent Stage. While every note was played by a well-rehearsed ensemble of four brass players, each instrument was recorded separately, which allows you to access each voice individually. Still, they sound like an ensemble and not like four soloists, whether playing in unison, divisi, or even in four-part harmony.

Vienna Dimension Brass comes with the free Vienna Instruments player. To make the most of these unique multi-dimensional samples, we recommend using Vienna Instruments PRO (a fully functional demo version is included in the box). Its auto-divisi mode automatically splits voices between players, and the tailor-made Humanize Presets let you easily control the performance accuracy of your virtual musicians in real-time, at the single touch of a fader – from subtle tuning and timing variations to heavy cluster effects.
Vienna Dimension Brass is available at the introductory price $625 USD until February 15, 2011. The library will start shipping on January 17, 2011.
More information: Vienna Symphonic Library / Vienna Dimension Brass