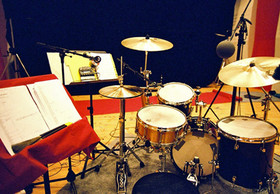 Vienna Symphonic Library has released the Vienna Jazz Drums sample library.
With the release of Vienna Jazz Drums the Vienna Symphonic Library brings a decade of experience in sampling and software development to the art of jazz drumming.

The full sonic variety of an exclusive customized 60's Rogers drum set with original 60's Avedis Zildjian cymbals has been captured in all the subtle details.

Thanks to the intelligent performance detection features of our free Vienna Instruments player, the liveliness of your performance will be jaw-dropping – especially with the included MIDI drum loops. More good news for users of Vienna Instruments PRO: Start grooving instantly at the touch of a single finger with exclusive drum loops that live inside the internal APP sequencer!
Vienna Jazz Drums features
Exclusive customized 60's Rogers drum set, Paiste 2002 signature snare drum prototype and original 60's Avedis Zildjian cymbals.
Snare, bass drum, hi-hat, 2 toms, ride and crash cymbal, recorded with close and room microphones at Vienna's famed Silent Stage.
Great variety of playing techniques: Single strokes, flams, rim shots, ruffs, rolls, press rolls, stick on stick, cross-stick (all styles include various repetition patterns).
Extensive brush set: Tip, tap, flat, flams, bouncing strokes, legato strokes and more.
Different kinds of swishes: Normal, circles, 6/8, samba swishes.
"Speed Control": Your playing speed is used as a controller to achieve realistic repetitive performances (essential for the sonic behavior of brush swishes and cymbals).
GM drum set mapping included.
Customized Vienna Suite settings for the entire set.
Ready-made mixing environment in Vienna Ensemble and Vienna Ensemble PRO.
Includes MIDI drum loops for the internal APP sequencer of Vienna Instruments PRO.
14 GB of sample data in 44.1kHz/24bit (uncompressed data size).
The Vienna Jazz Drums library is available to purchase for 95 EUR.
In addition to Vienna Jazz Drums, VSL has introduced 17 new Single Instruments from its Vienna Instruments DVD Collections.
The new Single Instruments are full-fledged instruments and ensembles taken from our big Vienna Instruments DVD Collections, offering an enormous wealth of samples and articulations at very favorable prices. They are instantly available for download.

And now, the prices of most of our Single Instruments Standard Libraries have just been lowered! So this is the perfect time to expand your orchestra according to your needs and budget – more choice, lower prices and a special offer!
Through July 2012, you can buy any 2 Single Instruments and get 1 Single Instrument for free.
More information: Vienna Symphonic Library