Vienna Symphonic Library has announced the release of the Bösendorfer Imperial, a virtual instrument that captures the Bösendorfer Concert Grand 290 Imperial piano.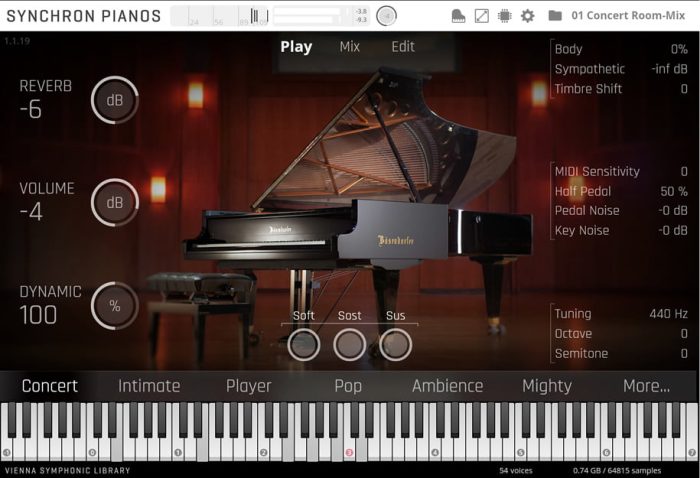 We're always striving to improve and optimize our products and procedures – a special challenge, having set a very high bar with the grands we've previously captured at Synchron Stage Vienna. Listening back to the virtual representation of our brand-new Bösendorfer Imperial, we believe we've created a new milestone in the art of piano sampling.

The Bösendorfer Concert Grand 290 Imperial represents the apex of the famed Austrian piano manufacturer's precious heritage. Its nine additional sub-bass notes extend the instrument's key range downward to the low C – for a total range of eight octaves. The extra bass strings create additional harmonic resonance with every key you strike, providing warmth, richness and depth across the entire instrument. The massive soundboard projects an unusually broad frequency range, evoking a sonorous, orchestral timbre.
Bösendorfer Imperial features
Full 8 octaves in tonal range – 97 keys (with bass extension).
Warm, orchestral sound, rich in depth and tone color.
Powerful bass.
Six pre-configured Main Presets: Concert, Intimate, Player, Pop, Ambience, Mighty.
Proprietary Vienna Synchron Pianos engine with adjustable sympathetic resonances, pedal noise, key noise and so much more.
Per-note EQ, volume, dynamic range and tuning.
Advanced Release Sample Technology.
Recorded at Stage A of Synchron Stage Vienna.
The Bösendorfer Imperial is available at an introductory price of $229 USD for the Standard Library (regular $311 USD), and $431 USD for the Full Library (regular $589 USD).
More information: Vienna Symphonic Library