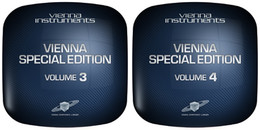 Vienna Symphonic Library has announced the release of two new collections for the Vienna Special Editions, its entry-level orchestra packages.
The Vienna Special Editions offer a large-scale orchestra and more at your fingertips, in resource-saving, affordable packages. They are available in four BUNDLES, six COLLECTIONS and 14 individual instrument SECTIONS (Strings, Woodwinds, Brass, Percussion & More, Keyboards & Guitars) that may be purchased separately.
New Vienna Special Edition libraries
Special Edition Vol 3

("Appassionata & Muted Strings") – Apart from the lush and cinematic Appassionata Strings with a wide variety of playing techniques in normal and muted variations, the Special Edition Volume 3 focuses on "con sordino" (muted) recordings of the Solo Strings and Chamber Strings. Additionally, you'll find an alternative Harp to the one included in the Special Edition Volume 1. All instruments include Vienna Symphonic Library's famed Legato Performances – real note transitions, smoothly and authentically performed by the algorithms of the Vienna Instruments software player.

Special Edition Vol 4

("Special Winds & Choir") features 15 woodwind and brass instruments that are not included in the Special Edition Volumes 1–3, such as the "Fanfare Trumpets" (a powerful ensemble of 6 trumpets), bass flute and contrabass clarinet. What's more, the most important articulations of our Vienna Choir are included, covering the full range of the human voice with soprano, alto, tenor and bass ensembles. Add another dimension and a very human touch to your music, especially to your orchestral scores!
The new Special Edition collections are available to purchase at the introductory price of 325 EUR (Vol 3) and 245 EUR through June 15, 2012.
More information: Vienna Symphonic Library / Special Edition Collection